Oakland A's to lose key part of fan experience in 2023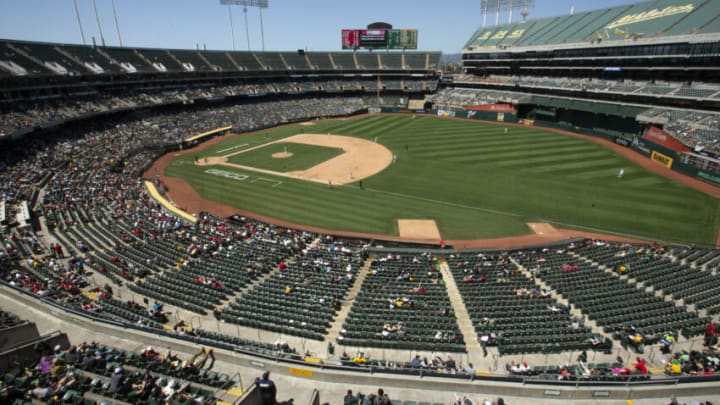 Jul 20, 2021; Oakland, California, USA; A general view of RingCentral Coliseum during the sixth inning of a game between the Los Angeles Angels and Oakland Athletics. Mandatory Credit: D. Ross Cameron-USA TODAY Sports /
The Oakland A's had a brutal year where they fell to the bottom of the standings after yet another fire sale. This offseason is not starting out that much better.
A key part of the A's fan experience is departing. Hal the Hot Dog Guy has been a staple at A's games since 2016 but may have sold his last hot dog as he said on Twitter that the team will not be able to keep him on for next season.
Oakland A's unable to keep Hal the Hot Dog Guy
The details of what happened are between Hal and the A's. It is worth noting that the organization is blaming the delay on the Howard Terminal as to why they cannot keep him around. Even his attempts to convince the A's to hire him as an economist. That request was also rebuffed.
This certainly does not bode well for the A's moving forward. If they are using the lack of progress on a new ballpark as an excuse for why they cannot keep a hot dog vendor on their payroll, what are the A's going to do about the product on the diamond? Will there be anyone making more than the league minimum next year?
There is a chance that Hal could be around for part of the year. He did leave the door open to working some of the games early in 2023, although it is unlikely he would be there for much more than those few contests unless something changes. Those "Gimme and A" cheers and the fun that he brings to the game will be lost. Considering A's ownership has gone out of their way to ruin the fan experience over the past year, it should not be a surprise that even Hal the Hot Dog Guy would suffer the same fate.
The Oakland A's are getting rid of another unique part of their fan experience. Hal the Hot Dog Guy may have sold his last hot dog for the A's.