Athletics history: Remembering Bob Trice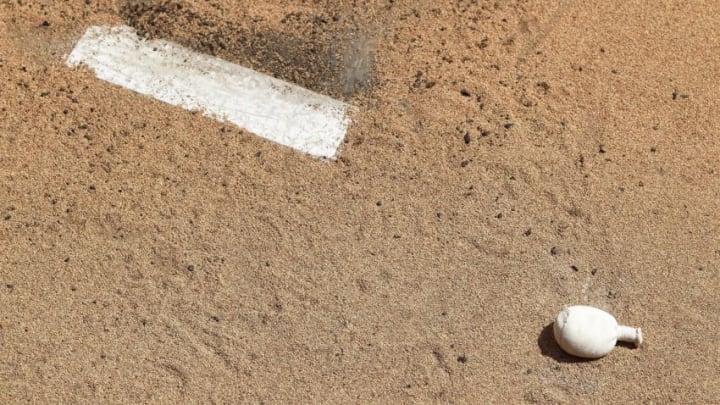 KANSAS CITY, MO - APRIL 28: Detail view of the rubber on a pitching mound and a rosin bag in the bullpen during the game between the Kansas City Royals and Seattle Mariners at Kauffman Stadium on April 28, 2010 in Kansas City, Missouri. The Mariners won 6-5. (Photo by Joe Robbins/Getty Images) /
As we celebrate the anniversary of Jackie Robinson integrating Major League Baseball, let us look back at the Athletics first black player – Bob Trice.
Back on April 15, 1947, history was made in Major League Baseball. After an unofficial ban for 63 years, Jackie Robinson shattered the color barrier, integrating the National League when he stepped on the diamond for the Brooklyn Dodgers. The Cleveland Indians quickly followed suit, as Larry Doby integrated the American League on July 5 of that year.
Other teams followed suit, some quicker than others. The then Philadelphia Athletics were the fourth American League team, and the seventh major league team overall, to have a black player debut. That player was pitcher Bob Trice.
Trice had spent some time in the Negro Leagues, spending three years with the legendary Homestead Grays. From there, Trice spent three years in the minors, coming into his own in the A's system. He exploded as a prospect in 1953 with the AAA Ottawa A's, posting an excellent 21-10 record with a 3.10 ERA and a 1.271 WHiP over his 229 innings. With the A's being desperate for pitching, Trice was given a look at the end of the season.
More from White Cleat Beat
He made his debut on September 13 in the opening game of a double header against the St. Louis Browns. Trice pitched fairly well before tiring in the eighth inning of the A's eventual 5-1 defeat. For the game, he allowed five runs on eight hits, including two homers. He struck out two and did not walk a batter.
After his three September starts, Trice got his chance to stick with the A's in 1954. He appeared in 19 games, the most of his major league career. In those 119 innings, he posted a 7-8 record with a 5.60 ERA and a 1.630 WHiP, striking out 22 batters with 48 walks. After a disastrous three game stint in July, where he allowed 21 runs (20 earned) and 36 baserunners in 17.1 innings, Trice was banished to the minors.
He would make just four more appearances with the A's, all of which came in relief in 1955. After that time, he spent three seasons in Mexico with the Mexico City Reds. After a mediocre showing in the Mexican League, Trice ended his baseball career at 32 years old.
Bob Trice may not have been a star, but he was an important figure in Athletics history – the first black player to play in the majors for the franchise.