Oakland A's history: Remembering Carney Lansford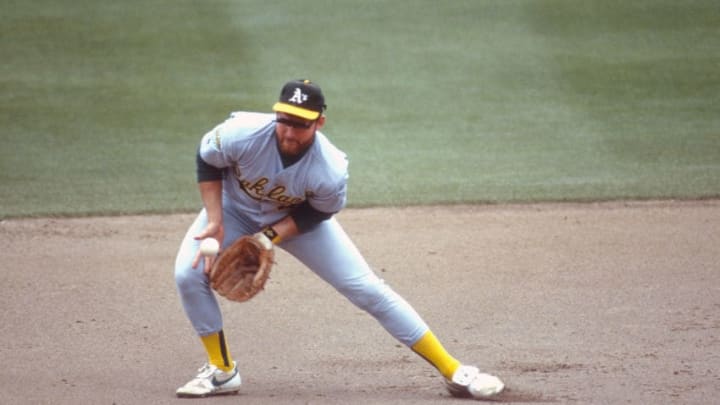 UNSPECIFIED - CIRCA 1990: Carney Lansford #4 of the Oakland Athletics goes down to field a ground ball during an Major League Baseball game circa 1990. Lansford played for the Athletics from 1983-92. (Photo by Focus on Sport/Getty Images) /
Carney Lansford was a key part of the Oakland A's success in the latter portion of the 1980s. Let's take a look back at his career.
When one thinks of the Oakland A's back in the latter part of the 1980s, there are certain players that come to mind. The Bash Brothers belting ball after ball into the bleachers. Dave Stewart glaring from the mound. Rickey Henderson stealing every base. And then there was Carney Lansford.
Lansford did not get the recognition of the other players. His job in the A's lineup was typically to move Henderson to third after he stole second. This way, the Bash Brothers could drive in the speedster, giving the A's an early run or two before the opposition settled in.
Yet, that does not give a true sense of appreciation for the player that Lansford was. He was a pro's pro, the type of player who did all the little things that may not appear in a boxscore. He would have a solid at bat, working the count while protecting Henderson on base. Lansford was the type of player that any manager would want on his team.
More from White Cleat Beat
He was also a very productive player during his decade in Oakland. Lansford produced a .288/.343/.411 batting line during his time with the A's, hitting 201 doubles and 94 homers. While not on the same level as Henderson, he was a respectable speedster in his own right, swiping 146 bases, with over 25 steals in three consecutive seasons.
Defensively, Lansford was not beloved by modern analytics. He was considered to have cost the A's 12 runs at third over his career, and another two runs at first. Yet, he also led the league in fielding percentage three times, showing that he would make the plays when he got to the ball.
In the end, Lansford had a solid career. He was an All Star in 1988 and earned MVP votes three times. In 1981 with the Red Sox, Lansford won the AL batting title, a year when he finished sixth in the MVP ballot and took home a Silver Slugger award. He finished his career with over 2000 hits and a 111 OPS+, a solid showing for a solid player.
Carney Lansford often gets lost when looking back at the Oakland A's run in the late 1980s. However, he was a solid player that deserves to be recognized for his contributions.