Oakland A's: From Ben Grieve to Frankie Montas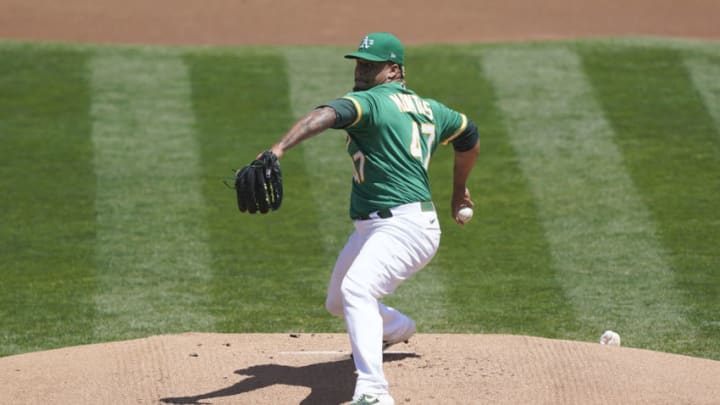 OAKLAND, CALIFORNIA - AUGUST 08: Frankie Montas #47 of the Oakland Athletics pitches against the Houston Astros in the top of the first inning at RingCentral Coliseum on August 08, 2020 in Oakland, California. (Photo by Thearon W. Henderson/Getty Images) /
Although Ben Grieve hasn't played for the Oakland A's in 20 years, his trade led to a series of moves that turned into Frankie Montas.
For a team like the Oakland A's, trades are a way of life. Once a player starts to get too expensive, or gets closer to free agency, they are dealt away for prospects. Those prospects ideally become a part of the future and sign a long term extension. Otherwise, when they reach a certain point, they are dealt for prospects, and the cycle starts again.
The trade tree that led to Frankie Montas illustrates the way the A's have built their roster. Montas was originally acquired in a trade with the Dodgers back on August 1, 2016. He was sent, along with two other players, to Oakland for Rich Hill and Josh Reddick as Los Angeles made another futile attempt to win a World Series.
Reddick himself was part of another deal. On December 28, 2011, he came over from the Boston Red Sox, along with two other players, for Andrew Bailey and Ryan Sweeney. Bailey was the key piece in the trade for Boston, a former All Star closer who was expected to fortify the bullpen, but his career was derailed due to injury and ineffectiveness.
More from White Cleat Beat
Sweeney, however, was the key to continuing the trade tree. He was acquired from the White Sox, along with two other players, for Nick Swisher. That trade was a disaster for Chicago, as Swisher clashed with manager Ozzie Guillen, had one of the worst seasons of his career, and was sent packing just a year later.
Swisher was selected by the A's with the 16th overall pick in the 2002 MLB Draft. He was considered one of the A's top prospects, racing through the minors to reach Oakland by the end of the 2004 season. His selection, meanwhile, was made possible by the departure of Johnny Damon in free agency.
Damon spent just one year in Oakland. He was acquired as part of a three team deal involving the Royals and the then Devil Rays, a deal that also brought Mark Ellis and Cory Lidle to Oakland. The A's, meanwhile, traded A.J. Hinch and Angel Berroa to Kansas City, and sent Ben Grieve to the Rays.
And finally, we come to the end of the chain. Grieve was selected by the A's with the second overall pick in the 1994 MLB Draft, a reward for their swift fall from grace. He reached the majors for a cup of coffee in 1997, and a year later, was named the AL Rookie of the Year. While he was a solid power source and run producer in Oakland, injuries derailed his career following that trade.
Ben Grieve will be remembered for his Rookie of the Year season with the Oakland A's. But for A's fans, his transaction tree has led directly to Frankie Montas.