Oakland A's makes fan's day with 2021 first pitch offer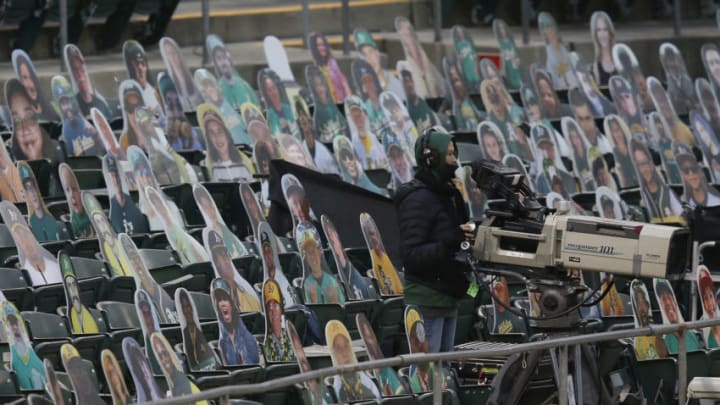 OAKLAND, CALIFORNIA - AUGUST 05: A camera operator works among the cardboard cutouts of fans during the game between the Oakland Athletics and the Texas Rangers at Oakland-Alameda County Coliseum on August 05, 2020 in Oakland, California. (Photo by Lachlan Cunningham/Getty Images) /
You never know who is paying attention. For one Oakland A's fan, his cardboard cutout at the Coliseum will lead to the experience of a lifetime.
Although fans may not physically be in the stands this year, they are still there in spirit. The cardboard cutouts may not be the same thing as having fans, but it is still a way to be a part of the gameday experience. And, there is the fun in trying to find yourself during the game, searching for where your cutout has been placed.
These cutouts are also a great way for fans across the country to feel as though they are a part of their favorite teams. That has been the case for Oakland A's fans as well, especially Joe Hofer, a lifelong fan who lives in Florida.
His cutout was created by his granddaughter, Ally. Referring to the cutout as 'Pop Pop,' she also made a series of videos featuring the image.
More from White Cleat Beat
As with any video, you never know who is going to be watching. As it turned out, one of those videos caught the attention of the A's front office. Seeing Hofer's passion for the team, they sent out a surprise – tickets for his entire family to take in a game in 2021 and his being able to throw out the first pitch.
Moments like that can make a major difference going forward. For the A's, it is a small gesture – a family gets brought out to a game in Oakland and a fan gets to throw out the first pitch. But for Hofer and his family, it is a memory that will last a lifetime, something that they will be able to look back upon fondly.
And that is really where the fandoms grow and develop. Those unforgettable moments can help baseball grow. With all of the concern about growing the game and finding the next generation of fans, these are ways that teams can make that move.
The Oakland A's are providing an unforgettable moment for a lifelong fan and his family. We're all looking forward to seeing that first pitch next year.