Jose Canseco is fed up with Oakland A's ownership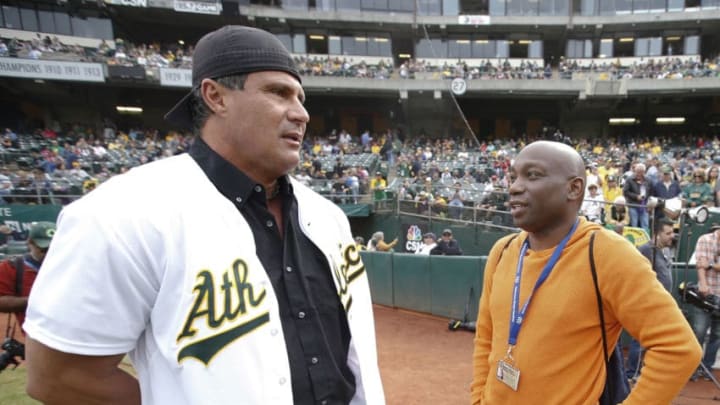 OAKLAND, CA - SEPTEMBER 3: Jose Canseco talks with Howard Bryant of ESPN on the field prior to the game between against the Oakland Athletics at the Oakland Coliseum on September 3, 2016 in Oakland, California. The Red Sox defeated the Athletics 11-2. (Photo by Michael Zagaris/Oakland Athletics/Getty Images) /
One had to imagine that, at some point in time, Jose Canseco would weigh in on the Oakland A's offseason. Canseco has not been afraid to weigh in on virtually any topic over the years, but may have been distracted by his training for his upcoming boxing match.
But even Canseco has limits. The A's acquisition of Cole Irvin was enough to work up the ire of the former Oakland star.
Jose Canseco is not the only one to feel this way
Canseco is hardly alone in his sentiments. The ongoing cry of poverty from Oakland's ownership is starting to wear thin amongst the fanbase, especially in the wake of their refusal to do anything this offseason. Scraping the bottom of the barrel in trades and free agency just is not going to cut it.
More from White Cleat Beat
One can understand the frustration. The A's have a solid young core to build around. Matt Chapman and Matt Olson should both be extension candidates. Ramon Laureano appeared to be on his way to stardom before his struggles last year. Sean Murphy is one of the best young catchers in the game.
The pitching staff also has an intriguing mix. Oakland is hoping that Jesus Luzardo and Frankie Montas can be the aces the team needs. A.J. Puk may be an injury risk, but he has that same level of upside. The pieces are in place, if only ownership would have been willing to spend the money needed.
But no. Ownership has instead cried poverty and sat out the offseason, adding only minor league options despite having ten players leave the team as free agents. There are holes all over the roster that the minor leaguers will not be able to fill. A key year is being wasted because of ownership.
Jose Canseco is correct. The Oakland A's need new ownership if they are ever going to take that next step.