Oakland A's fans give Houston Astros greeting they deserved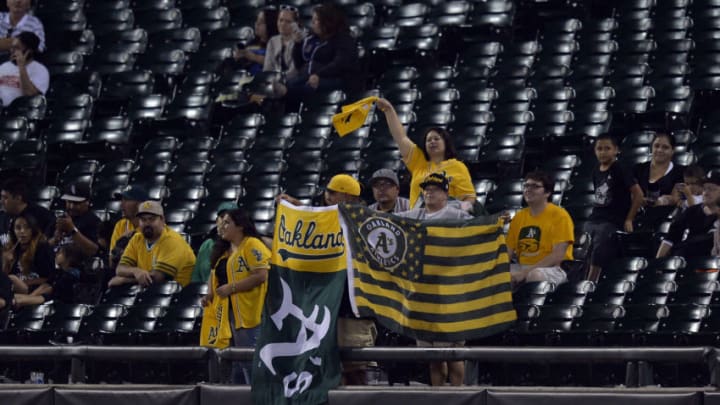 CHICAGO, IL - SEPTEMBER 8: Oakland Athletics fans cheer during the twelfth inning against the Chicago White Sox at U.S. Cellular Field on September 8, 2014 in Chicago, Illinois. The White Sox defeated the Athletics 5-4 in 12 innings. (Photo by Brian D. Kersey/Getty Images) /
The Houston Astros are finally set to face the wrath of the fans, and it started on Thursday night in Oakland. Predictably, Oakland A's fans were not exactly enamored to see the Astros during their introductions, especially in the wake of AstroGate and how they eliminated the A's in the ALDS.
A's fans certainly did their part. Even if attendance was limited, the Astros got a taste of what they will be in for this year.
Oakland A's fans kick off Astros' season long hate fest
This has been a long time coming. The Astros should have received the vitriol of the fans in 2020, but the ongoing pandemic granted them a temporary reprieve. While they were mocked on social media and outside of the ballpark, the players never had to pay the price for their actions.
More from White Cleat Beat
That is no longer the case. The Astros will hear the boos of the fans whenever they set foot on the diamond as an away team. They will hear the trash cans being slammed and the taunts of the fans. Players such as Jose Altuve and Carlos Correa will face the brunt of the wrath, particularly in the wake of their non apologies.
While fans around the game may be looking forward to showing the Astros how they feel, it is personal in Oakland. The A's could claim that missed out on other AL West pennants due to AstroGate and those playoff runs sponsored by RubberMaid. And they are certainly not going to forget nor forgive.
Houston got a taste of what is to come throughout the rest of the season. As more fans are hopefully allowed in the ballpark as the summer goes on, those boos and slamming of trash cans will get louder. Maybe it will not affect the Astros on the diamond, but it will be cathartic for those fanbases to let Houston know how they feel.
The Oakland A's fanbase gave the Houston Astros a welcoming they had to expect. There will be plenty more vitriol to come as the season progresses.