Oakland A's streak causes power rankings confusion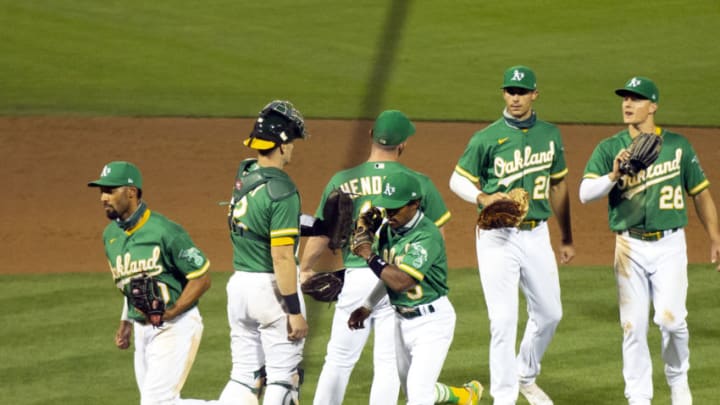 Aug 19, 2020; Oakland, California, USA; Oakland Athletics players celebrate their teamÕs 4-1 victory over the Arizona Diamondbacks in a baseball game at Oakland Coliseum. Mandatory Credit: D. Ross Cameron-USA TODAY Sports /
The Oakland A's hot streak certainly captured a great deal of attention. They have won eight games in a row, and nine of their last ten, to overcome their disastrous 0-6 start to the season. One would think that, as the new power rankings are out, the A's would have seen a decent amount of movement.
But that has not been the case in every situation. The A's did move up the MLB.com power rankings, but only gained two spots to move to 15th in their list. Somehow, they are behind the Astros (ranked 12th) despite Houston's plummet down the standings.
Oakland A's hot streak causes power rankings insanity
At least NBC Sports recognized the A's strong week. They moved up 13 spots in their power rankings, jumping from 21st to eighth. As their power rankings pointed out, Oakland had a difficult schedule at the start of the season, but has taken care of business against the weaker teams. In fact, NBC has the A's behind only the Angels amongst divisional foes.
More from White Cleat Beat
On the other hand, Sports Illustrated was not nearly as optimistic about the A's moving forward. While they did move up the standings, they only jumped two spots, as was the case on MLB.com. However, SI ranked the A's 21st overall, as they stated that they are not certain that this streak is a sign of things to come, especially given the opposition.
Meanwhile, CBS Sports outdid NBC in terms of their optimism regarding the A's. While they also jumped 13 spots in their power rankings, the A's are slotted as the sixth best team in baseball. Although they are still ranked behind the Angels, that gap is only one place, and could easily change in the coming week.
Obviously, the power rankings mean nothing at the end of the day. The only results that matter are the ones in the actual standings, as the A's look to return to the postseason once again. Hopefully, their slow start is firmly in the rearview mirror and the A's will be able to continue to add to their successful run.
The Oakland A's hot streak has caused chaos amongst the power rankings. Seemingly every power ranking has no idea what to make of the A's.