Oakland A's set to face tough test over next 20 games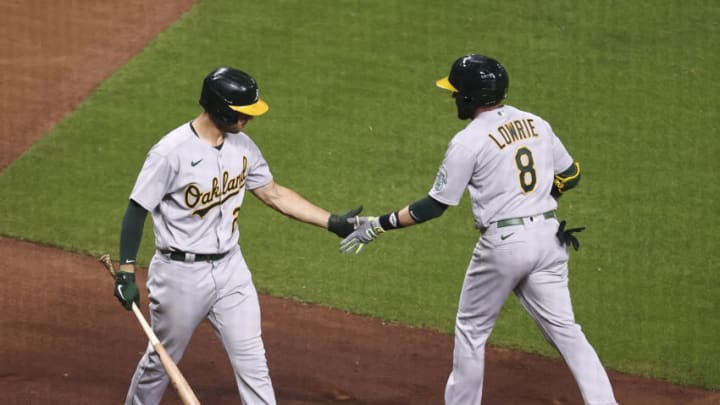 Apr 9, 2021; Houston, Texas, USA; Oakland Athletics second baseman Jed Lowrie (8) celebrates with first baseman Matt Olson (28) after hitting a home run during the fourth inning against the Houston Astros at Minute Maid Park. Mandatory Credit: Troy Taormina-USA TODAY Sports /
The Oakland A's had better have enjoyed their off day. They will not get another one until May 10, and their schedule is about to get much more difficult.
Over the next 20 games, the A's will get to face the AL East. The schedule begins with a three game series in Baltimore, followed by four games in Tampa Bay. Oakland then heads home after the Thursday game in Florida to face the Orioles in another three game set before facing the Blue Jays and the Rays. Finally, they will have that off day, heading back to the east coast to face the Red Sox.
Oakland A's facing tough test over the next few weeks
The schedule makers certainly did not do the A's any favors in that time. They will be bouncing across the country, literally heading from one coast to the other without a day off in the coming week. That will make an already difficult stretch even tougher.
More from White Cleat Beat
Baltimore may not be considered a difficult matchup, but they are showing signs of emerging from their rebuild. With an 8-10 record, the Orioles are not the doormats they have been in recent years. Meanwhile, the A's have six games against the defending AL Champion Rays and a four game set against the young Blue Jays before facing the division leading Red Sox.
It is easy to feel good about the A's right now. They have shaken off their rough start to the season to win 11 consecutive games. In that time, they have gone from having one of the worst records in the game to leading the AL West. But it is fair to say that we do not actually know how good the A's truly are.
This next stretch will provide a better indication as to whether or not the A's can contend as currently constructed. The Red Sox, Blue Jays, and Rays all envision themselves as playoff caliber teams. If the A's are truly at that level, they will need to show that in the coming weeks.
The Oakland A's have a difficult stretch in their next 20 games. It will be a great test to see if they are really as good as they have looked recently.