Oakland A's: 3 biggest surprises from the first month of the season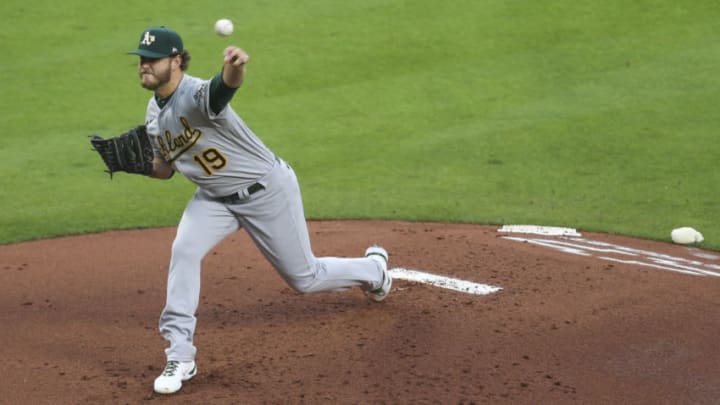 Apr 8, 2021; Houston, Texas, USA; Oakland Athletics starting pitcher Cole Irvin (19) pitches against the Houston Astros during the second inning at Minute Maid Park. Mandatory Credit: Thomas Shea-USA TODAY Sports /
Mandatory Credit: D. Ross Cameron-USA TODAY Sports /
One month into the season, the Oakland A's are right where they were expected to be. They lead the AL West, holding the division by a game over the surprising Seattle Mariners. At least one aspect of the standings reflects preseason expectations.
How the A's ended up on top of the division also defies explanation. They started the season 0-6, won a game, lost another, and then went on an impressive 13 game winning streak. At 16-11 heading into Saturday's action, the A's are neither as bad as their start nor as good as that incredible streak.
Three biggest surprises for the Oakland A's
The A's also have not exactly gotten the production they needed from some of their key players. While the A's are in the middle of the pack in regards to runs scored, they are 12th in batting average, 11th in on base percentage, and 10th in slugging and OPS. The pitching staff, meanwhile, is ninth with a 4.10 ERA. That 16-11 record could be considered surprising in that light.
The start to the season is not the only surprise for the Oakland A's over the first month. Let's take a look at three players who performed beyond expectations.
Jed Lowrie
A great deal has already been written about Jed Lowrie over the first month of the season. However, considering how little was expected of him, it is understandable.
Lowrie's career was seemingly over when the Oakland A's signed him to a minor league deal. Even with that modest contract, the idea that Lowrie would be able to contribute in a meaningful way was nothing more than a hope and a prayer.
Instead, he is healthy for the first time in two years. Lowrie finished April with a solid .244/.320/.411 batting line in 100 plate appearances, hitting six doubles and three homers. He had a six game streak where he had exactly two hits in each game, with two doubles and two homers during that run.
There were plenty of questions about second base heading into the season. It appeared as though the A's were set to use the tandem of Chad Pinder and Tony Kemp at second once again to start 2021, although that combination did not work last year. Lowrie, however, took the position for himself, providing a solid bat and respectable defense while handling an everyday role.
The fact that Jed Lowrie is even playing is a bit of a surprise. His standing as the Oakland A's everyday second baseman, and his solid production, are even more surprising.