Three possible relocation targets for the Oakland A's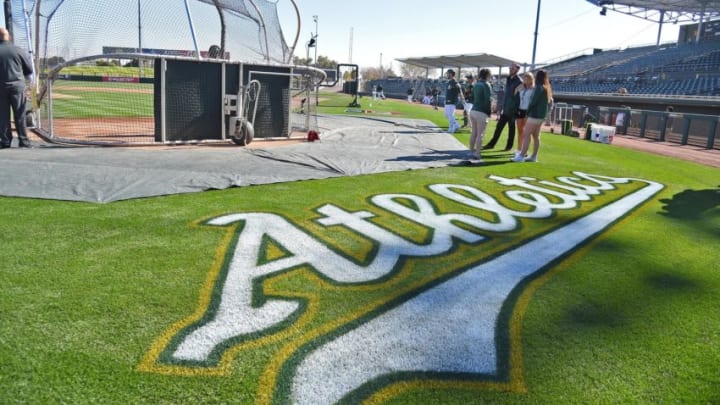 Feb 23, 2018; Mesa, AZ, USA; A general view of a logo on the field prior to the game between the Los Angeles Angels and the Oakland Athletics at Hohokam Stadium. Mandatory Credit: Jayne Kamin-Oncea-USA TODAY Sports /
(Photo by Jason O. Watson/Getty Images) /
The Oakland A's have been the one team to stay. Both the Golden State Warriors and the now Las Vegas Raiders have left the city, making the A's the last team standing. It had become a part of their identity, with the #RootedInOakland campaign designed to say that the team had no intention of leaving the city behind.
Well, that was so last year. As the A's continue to run into obstacles with their desired new ballpark at Howard Terminal, Major League Baseball is stepping into the fray. The league has given the A's permission to look at possible options for relocation should the city veto funding for the new ballpark.
Where could the Oakland A's end up?
The A's had considered relocation before. There had been a flirtation with both San Jose and Fremont over the years as the stadium question has continued. However, that was more of an idle threat than any real possibility. This time, given the backing of MLB, is different.
Presumably, the league would prefer the A's to remain on the west coast, or at least in that general area. This would keep the league from having to realign the divisions yet again, or cause an issue where an east coast team is playing in the West, such as the Atlanta Braves from 1969 through 1993. That would eliminate several possible options right off the bat.
Where could the Oakland A's end up? Let's look at three possibilities.
Las Vegas
Let's get the obvious one out of the way first. The Oakland A's could easily follow their former roommates at the Coliseum and head out to the desert.
Once off limits due to gambling concerns, Las Vegas has become a hot destination for different teams. The Golden Knights in the NHL have thrived, and the aforementioned Raiders received a new state of the art stadium to relocate. It would not be a surprise to see Major League Baseball and the National Basketball Association look to Vegas as well.
There would be one possible issue – the A's have their Triple-A affiliate in Vegas. However, as it is their own minor league affiliate, and they would not have to worry about infringing upon another franchise, those concerns can be overcome. The Triple-A team may need to move, but that would be a small cost to pay for what could be a very lucrative move to a new city.
It is seemingly inevitable that Las Vegas ends up with a major league franchise. If their waterfront stadium does not happen, that team could be the Oakland A's.