Oakland A's ballpark situation gets murkier by the day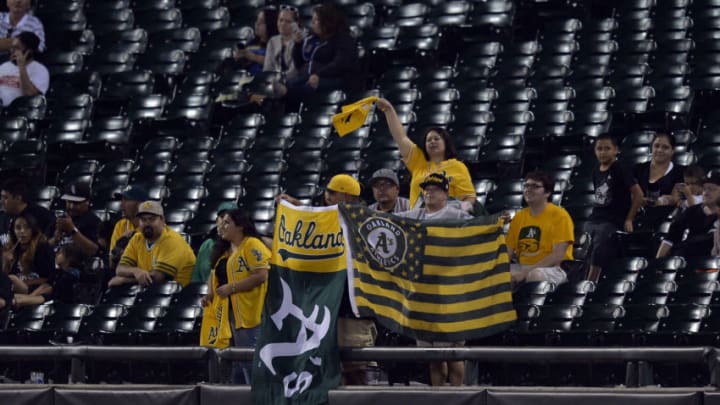 CHICAGO, IL - SEPTEMBER 8: Oakland Athletics fans cheer during the twelfth inning against the Chicago White Sox at U.S. Cellular Field on September 8, 2014 in Chicago, Illinois. The White Sox defeated the Athletics 5-4 in 12 innings. (Photo by Brian D. Kersey/Getty Images) /
It is clear that the Oakland A's would prefer to remain in Oakland. Even with the ongoing issues related to their attempts to construct a new ballpark in the city, they have spent literally two decades attempting to keep their home where it has been since 1968. Even though Major League Baseball has given the go-ahead for the team to explore relocation, their heart remains in the Bay Area.
At this point, it is a matter of getting the City of Oakland to agree to their stadium plans. A's president Dave Kaval tweeted out an image from his meeting with the city, saying that the negotiations are going well.
What is the truth with the Oakland A's stadium situation?
On the surface, this is good news. It would seem that progress is being made ahead of the vote on July 20, and that the A's may get their stadium after all. The Rooted in Oakland campaign would be more than an empty slogan.
More from White Cleat Beat
However, less than seven hours earlier on Tuesday, there was another story. This one was about the A's heading to Las Vegas next week to tour various locations for a potential new ballpark. If relocation actually happens, Las Vegas was viewed as one of the primary destinations as the A's would follow in the Raiders' footsteps.
What is known is that the A's are locked in to being in Oakland until 2024. Their lease at the Coliseum expires after that season, but it is fair to wonder if the ballpark will even last that long. The electrical and plumbing issues are constant headaches, and could be even worse by the time the lease ends.
And yet, we are all no closer to an answer as to what is going to happen. The City of Oakland still needs to vote, and even if the ballpark gets approved, it may not open until 2027. Las Vegas might make a better offer and be able to get a new ballpark faster. If anything, the news on Tuesday made the ballpark situation even murkier.
The Oakland A's feel progress is being made in Oakland and are going to Las Vegas to tour ballpark sites. The situation is getting murkier by the day.