Oakland A's have price tag for Las Vegas stadium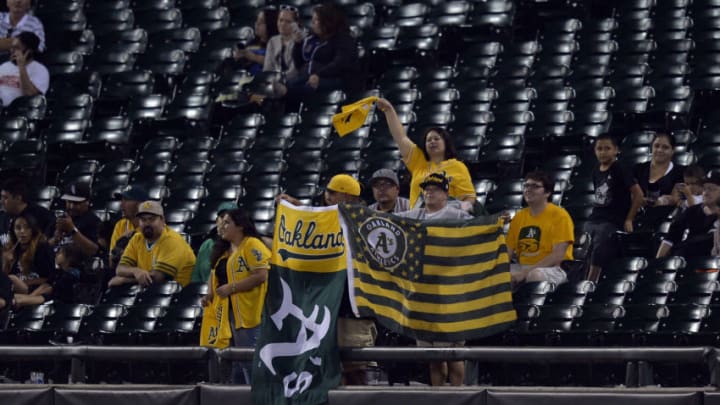 CHICAGO, IL - SEPTEMBER 8: Oakland Athletics fans cheer during the twelfth inning against the Chicago White Sox at U.S. Cellular Field on September 8, 2014 in Chicago, Illinois. The White Sox defeated the Athletics 5-4 in 12 innings. (Photo by Brian D. Kersey/Getty Images) /
The Oakland A's initial interest in Las Vegas felt as though it was a bluff. They had seemingly been pushed towards exploring relocation by Major League Baseball, whose involvement in the long standing stadium dispute between the A's and the City of Oakland can hardly be called altruistic. Nonetheless, the A's contingent headed to Las Vegas, getting a feel for different areas for a potential ballpark.
As a result of that trek, the A's have a price tag. It is expected that a new ballpark for the team, should they relocate, would cost approximately $1 billion.
Oakland A's have price tag for stadium in Las Vegas
The A's obviously have a shopping list of preferences should they relocate. They would like the new stadium to be downtown, near the non-stop entertainment and excitement that the city is known for. This would make a trek to the game more than just a night at the ballpark; it would potentially lead to additional income for businesses in the area.
More from White Cleat Beat
The team is not looking for a massive stadium downtown either. According to the same report, the team wants a ballpark with approximately 30,000 fixed seats and room for another 4000 standing room customers. Even though the stadium will not be overly large, having all of the state of the art amenities will be costly.
It also remains to be seen how much of that price tag would need to come out of the A's pocket. While the franchise had committed to making a significant investment in Howard Terminal, the city would also be on the hook for a large chunk of the cost to revitalize the area. While this could eventually be profitable, it will require a large initial outlay of funds in order to happen.
Although the vote on the Howard Terminal Project has yet to occur, the A's have options. Should the vote not go their way, that move to Las Vegas could become a reality. And if it does, the A's know what type of price tag they will be looking at when it comes to a new stadium.
The Oakland A's have their price tag for a new, state of the art stadium in Las Vegas. Those fallback options are already in place.