Oakland A's vaccination promotion has multiple benefits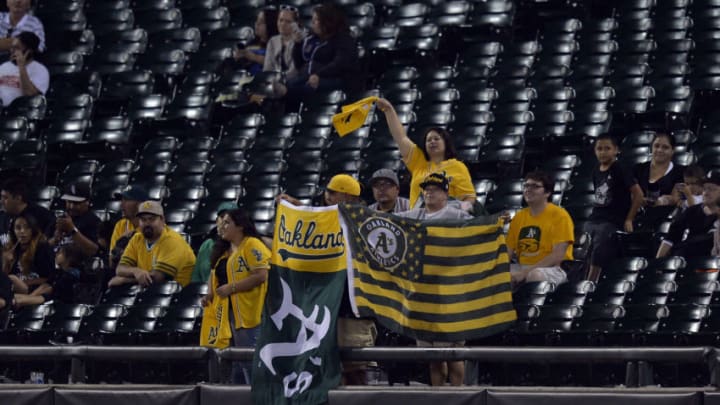 CHICAGO, IL - SEPTEMBER 8: Oakland Athletics fans cheer during the twelfth inning against the Chicago White Sox at U.S. Cellular Field on September 8, 2014 in Chicago, Illinois. The White Sox defeated the Athletics 5-4 in 12 innings. (Photo by Brian D. Kersey/Getty Images) /
Across the country, different areas are getting creative to get people to take the COVID vaccine. From various giveaways to lotteries where one vaccinated person can win a substantial amount of money, there have been different ways to get those on the fence to take the vaccine. The Oakland A's are doing their part to be a part of the solution as well.
Beginning on June 14, fans will be able to get vaccinated during the A's game. As an incentive, those fans will receive two free tickets to a future game.
Oakland A's doing their part to increase vaccination rates
This is something that can work to the A's advantage. By having vaccination clinics during their games, they may be able to draw more fans to the ballpark than normal. It is a chance to take in a ballgame, get the vaccine, and then be able to come back to another game later in the year. It makes sense for those A's fans who may be on the fence about being vaccinated to do so, even if it is just to get into another game for free.
More from White Cleat Beat
This can also work out for the A's as well. They would theoretically be able to get more fans into the stands as people look to get vaccinated. This would bring in more revenue up front, helping the team's financial situation as they look to potentially add players at the trade deadline for a playoff push.
Even those free tickets can make a difference. Yes, the A's would lose the revenue at the gate, but that may be able to be recouped inside the ballpark. Food, drinks, and souvenirs could make up that difference, particularly as those fans would not have to pay to enter the game. That money could be spent elsewhere in the stadium.
It also helps the A's get more of a push from the crowd. While home team advantage does not matter as much in baseball as in other sports, it would certainly be great to see the Coliseum at maximum capacity, with the A's finally getting to play in front of a large crowd for the first time since the 2019 season.
The Oakland A's are doing their part to get their fans vaccinated. In doing so, not only will they help the community, but they could help their bottom line.