Oakland A's planning another trip to Las Vegas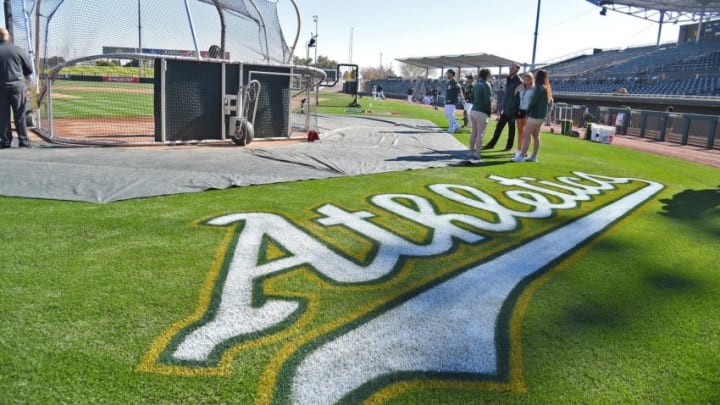 Feb 23, 2018; Mesa, AZ, USA; A general view of a logo on the field prior to the game between the Los Angeles Angels and the Oakland Athletics at Hohokam Stadium. Mandatory Credit: Jayne Kamin-Oncea-USA TODAY Sports /
Optimism is beginning to dwindle in regards to a deal for a new ballpark at Howard Terminal. The Oakland A's and Oakland City Council had another round of negotiations, which did not go well at all. The city criticized the A's for not including any details or plans for the affordable housing that is their priority, while the team countered that they could use the money from the new tax for either housing or the impact feed.
That plan would lead to the city essentially footing the bill for the housing, which they want to avoid. Councilwoman Carroll Fife said that the A's plan was "absurd," and with the vote scheduled for July 20, it seems as though the two sides are as far away as ever.
Oakland A's seemingly ready to head elsewhere
The length of the commitment is also a sticking point. The A's want to limit the non-relocation agreement to 20 years, while several council members want that to last for 45 years. Considering the investment in the area and in constructing the new ballpark, it makes sense that Oakland would want a longer time frame for their expenditures.
More from White Cleat Beat
Given this impasse, and how ownership has already made two excursions to Las Vegas, one has to question how strong of a commitment they have to remaining in Oakland. This is particularly the case as a third trek to Las Vegas has been planned, with this one geared towards having discussions with potential suitors for the new ballpark.
The A's had previously indicated that there had been "20 or so" locations where they could build. This journey, however, is narrowed down to two areas, although only one may be viable as the Raiders do not want to share a strip with the A's. Maybe they were bad housemates at the Colesium.
In a way, the timing of this trek makes sense. It is another negotiating ploy, one where the team can say that they have options if Oakland does not cave to their demands. However, it also puts their entire 'Rooted in Oakland' campaign in a different light, as they have been rooted for all of two years since the Raiders left town.
Oakland A's ownership is set to take another journey to Las Vegas. Given the reported impasse in negotiations, this may not be the last one.