Finding hope in Oakland A's Howard Terminal quest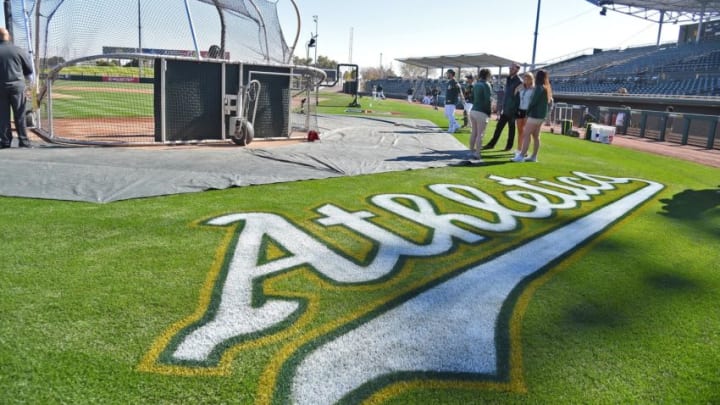 Feb 23, 2018; Mesa, AZ, USA; A general view of a logo on the field prior to the game between the Los Angeles Angels and the Oakland Athletics at Hohokam Stadium. Mandatory Credit: Jayne Kamin-Oncea-USA TODAY Sports /
For the Oakland A's, it is very simple. Either the franchise gets a new ballpark at Howard Terminal, or the nearly 25 year quest to get a new stadium in Oakland comes to an end. The A's will explore relocation, and when the lease on the Coliseum comes to an end in 2024, they will bid the city farewell.
That departure has seemed inevitable as of late. Between team president Dave Kaval airing his numerous complaints to the testy rhetoric between the team and the Oakland City Council and the A's numerous trips to Las Vegas, that move may as well have been booked.
Hope for Oakland A's new ballpark at last
But that may not be the case. There are two major obstacles – the city wanting the A's to pay at least $75 million towards the construction of affordable housing as part of the project, and a $352 million gap in the infrastructure financing districts covering the Jack London Square area and the other covering the Howard Terminal stadium site.
More from White Cleat Beat
However, in an interview on Friday, it seemed as though there was some give and take. Kaval gave the impression that the A's would meet at least the minimum for the affordable housing requirements. Of course, that is still somewhat open to interpretation as to how that funding would come about, but it is progress.
If a compromise can be reached on the first point, it stands to reason that the same could happen with the second obstacle. Yes, $352 million is a lot more than $75 million, which would make that appear to be a more difficult issue. But if the two sides are serious about keeping the A's in Oakland, it can happen.
For the first time in a long time, there is hope. It could all go away as soon as the vote takes place, although the July 20 vote is not exactly binding. But if the city is willing to work with the A's, and vice versa, the ongoing saga could have a happy ending for A's fans.
There is a sliver of hope that the Oakland A's will get their new ballpark at Howard Terminal. As faint as it may be, there is a chance it will happen.