Marcus Semien reminds Oakland A's of what they lost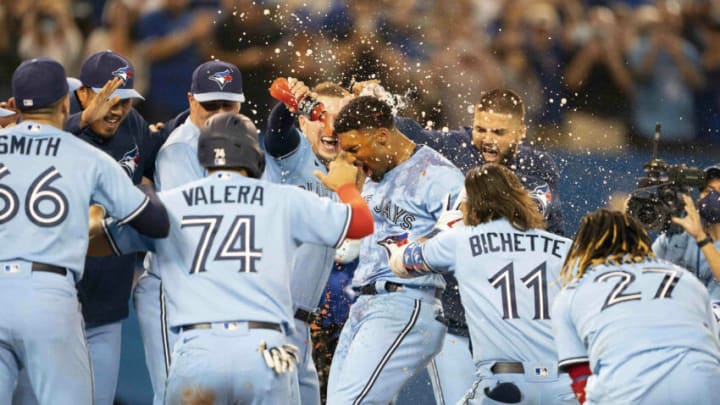 Sep 3, 2021; Toronto, Ontario, CAN; Toronto Blue Jays shortstop Marcus Semien (10) celebrates with the team after hitting a walkoff home run during the ninth inning against the Oakland Athletics at Rogers Centre. Mandatory Credit: Nick Turchiaro-USA TODAY Sports /
It was no secret that the Oakland A's wanted to keep Marcus Semien. He had emerged as a leader, both in the clubhouse and on the diamond while being beloved in the community. As one of the longest tenured members of the organization, he was exactly the type of player that the team should have opened the checkbook to bring back.
However, the A's cried poverty all offseason. They did make an offer to Semien – a one year deal with a large quantity of deferred money. It was absolutely no surprise that he turned down that offer, heading to Toronto on a one year deal to bet on himself and enter free agency once more in 2021-22.
Marcus Semien haunts Oakland A's
It is a decision that continues to haunt the A's. Elvis Andrus has not performed at close to a reasonable level this season. Semien, meanwhile, has blossomed in Toronto, showing that his 2019 campaign was not a fluke. To add insult to injury, he belted a walk-off three run homer on Friday, continuing to add to the A's struggles over the past month.
More from White Cleat Beat
As it is, Semien has already made history this season. He has become the first player in MLB history to hit at least 30 homers in a season from both middle infield spots, doing so as a shortstop in 2019 and a second baseman this season. His newfound defensive versatility and excellent showing this year will make him a hotly desired commodity in free agency.
The A's could certainly use his production in the lineup. Heading into Saturday, he had produced a .266/.333/.529 batting line in his 591 plate appearances, hitting 34 homers and 34 doubles while stealing 14 bases. He has also proven to be excellent defensively at second, saving an American League leading 15 runs at the position.
Obviously, there is no way of knowing if Semien would have had this level of production had he remained in Oakland. However, it does stand to reason that he would have been a dramatic upgrade to the lineup, someone who could have made a difference in the A's quest to reach the postseason. Instead, with his walk-off homer, he may have doomed the A's to missing the playoffs.
Marcus Semien stung the Oakland A's with his walk-off home run on Friday night. In doing so, he reminded the A's of what they lost.