Oakland A's appear to be intentionally alienating fanbase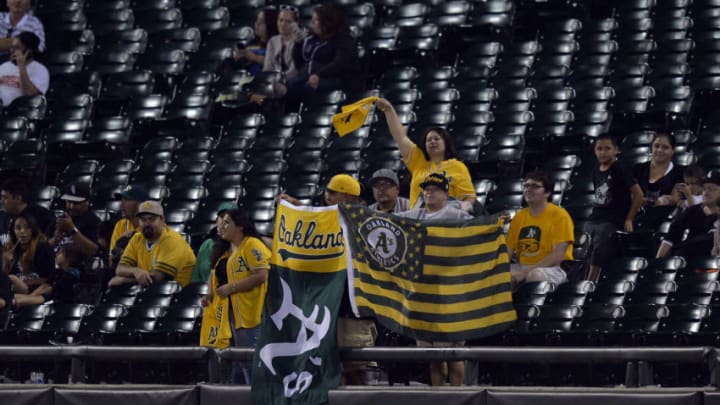 CHICAGO, IL - SEPTEMBER 8: Oakland Athletics fans cheer during the twelfth inning against the Chicago White Sox at U.S. Cellular Field on September 8, 2014 in Chicago, Illinois. The White Sox defeated the Athletics 5-4 in 12 innings. (Photo by Brian D. Kersey/Getty Images) /
It certainly feels as though the Oakland A's are going out of their way to alienate their fanbase. Between their ongoing flirtation with Las Vegas, the constant complaining about everything around the Coliseum, refusal to supplement a strong core to their roster, and general lack of interest in doing anything more than turning a profit, the A's have become thoroughly maddening over the past few years.
Wednesday marked a new nadir when it came to the A's and their fans. The 2022 ticket packages have been announced, with the team drastically raising prices across the board. Perks for season ticket holders, such as discounts on concessions, have been canceled. The Access Passes are gone, converted to quarter season passes where fans cannot pick games. The Treehouse, a beloved option for fans, is also no longer an option.
Oakland A's working to further alienate fanbase
While the A's are nominally working to make the Howard Terminal Project a reality, they are doing their best to make Baseball's Last Dive Bar a miserable experience. Staffing has been an issue, as has the pricing on food and drink in the ballpark.
But this may well be a part of the plan. Ownership can point to the lack of attendance as the reason why they cannot make the Coliseum, or Oakland as a whole, work, ignoring their part in pushing away the fans. For a team that was drawing 4000 fans to the stadium during a pandemic to have the same number during a playoff chase has to be by design.
These price increases are also coming at a horrendous time. The A's already increased prices on parking, concessions, and tickets this season when fans were dealing with financial insecurity due to the pandemic. That insecurity, and the pandemic, are still there, but ownership clearly does not care.
It would be one thing if the A's were going to use that money to add in free agency or to spend on keeping their own stars in house. Matt Olson, Ramon Laureano, and Sean Manaea would all be great options to keep for the long term. Bringing back Mark Canha and Starling Marte would show a commitment to winning. Instead, it is more likely that the A's start ripping their roster apart because of financial concerns.
The fans are still going to watch games. However, they may no longer head to the ballpark or spend money on gear, preferring to watch the games at home. Or, if the A's continue to go out of their way to push the fans aside, they may head across the bay to San Francisco, watching a team that is actually contending with ownership that is willing to open the checkbook despite much cheaper tickets.
The Oakland A's are going out of their way to alienate the fanbase. Just wait until they use a lack of attendance to justify their interest in relocation.