Oakland A's could be the next 2012 Marlins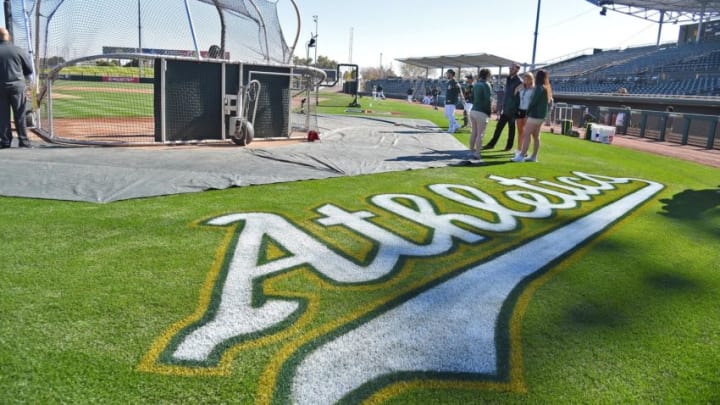 Feb 23, 2018; Mesa, AZ, USA; A general view of a logo on the field prior to the game between the Los Angeles Angels and the Oakland Athletics at Hohokam Stadium. Mandatory Credit: Jayne Kamin-Oncea-USA TODAY Sports /
Let's take a trip back in time to the 2011-12 offseason. The Miami Marlins were heading into their new ballpark for the upcoming year, and were active in free agency. They made moves designed to contend, only to fall flat on their faces. Most of those players were traded away the following offseason as the Marlins once again went back to having as minimal a payroll as possible.
Now we have the Oakland A's. They are another team with a minimal payroll, looking to save money wherever possible. They are also looking to get that shiny new ballpark, either at the Howard Terminal location or in Las Vegas.
Oakland A's – the next 2012 Marlins
Chances are, any new ballpark would have to come with assurances that the team would spend. That was the case with the Marlins – they promised that they would spend on players when their new stadium opened. And for one offseason, they did just that.
The A's may well follow suit. They may be targeting a potential opening for a new stadium, projected to be in 2026, as their target to compete once more should they trade the core of their roster away. In theory, if the A's are showing the potential to be competitive, they would use the money coming in from the new stadium, wherever it may be, to add players to that younger core.
But if there is anything that this ownership group has proven to be, it is cheap. They may well spend for a year, or even two, to keep up the goodwill from the new stadium. However, eventually, their true colors will shine through, and those players will be gone because they cannot afford them. It will be the 2012 Marlins all over again.
We have seen this type of scenario before with the Miami Marlins. It is just a matter of time before the Oakland A's follow that path.