Slow pace of CBA negotiations hurts Oakland A's plans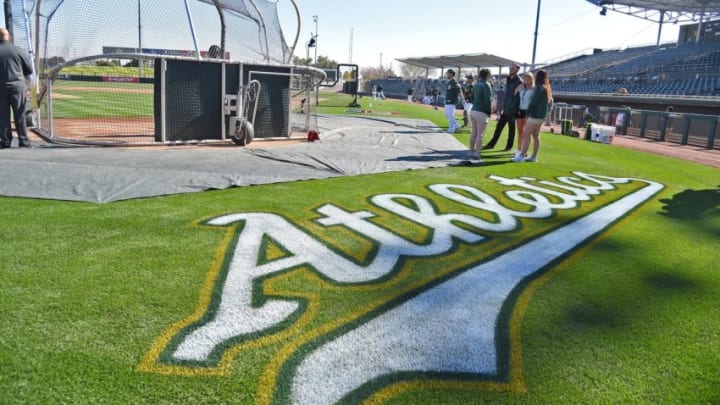 Feb 23, 2018; Mesa, AZ, USA; A general view of a logo on the field prior to the game between the Los Angeles Angels and the Oakland Athletics at Hohokam Stadium. Mandatory Credit: Jayne Kamin-Oncea-USA TODAY Sports /
The Oakland A's would love to be able to part with a large portion of their payroll. Their planned fire sale, and the restocking of their farm system, would just be another part of the cycle in any other year, with players heading out the door in hopes that a contending team will re-emerge by the time a new ballpark comes into existence. At least, that is the dream.
The reality is that this is not happening. The MLB lockout, and lack of a Collective Bargaining Agreement, have left teams unable to make moves on the 40 man roster. According to Jeff Passan, that is not going to change any time soon as neither side seems to have a sense of urgency.
Oakland A's plans left in limbo
While this hurts every team, it has a major impact upon the Oakland A's. They are reportedly looking to pare their payroll down to approximately $50 million, which will result in the trade of significant players. Teams are already circling around the A's, especially as players such as Matt Olson, Sean Manaea, and Chris Bassitt have been prevalent in rumors.
Those players would certainly draw significant returns. If the A's target players that are close to major league ready, their rebuilding process may not last as long as anticipated. They can still stock up the rest of the farm system in those deals as well, but could land pieces that would have plenty of team control.
But moves have to be permitted to happen. As the lockout drags on, the A's will have less time to make those trades. Although there is nothing stopping teams from unofficially discussing deals, it is still a matter of logistically getting those trades to take place.
Which brings the focus back to the A's. Their plans for the offseason revolved around being able to move players that are getting beyond their budget. Maybe they can even attach another onerous salary, such as Elvis Andrus or Stephen Piscotty, to a more attractive player to clear more salary. But those plans are on hold until the lockout is over.
The MLB lockout is affecting every team as spring training gets ever closer. However, it has thrown the Oakland A's entire offseason into limbo.