The timeline for Zack Gelof and the Oakland A's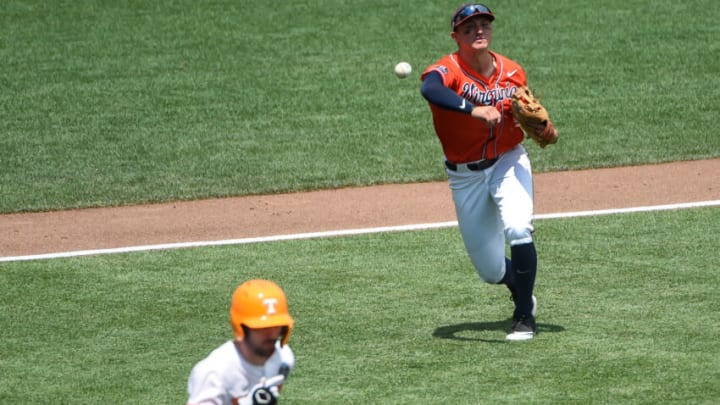 Jun 20, 2021; Omaha, Nebraska, USA; Virginia Cavaliers infielder Zack Gelof (18) throws out Tennessee Volunteers catcher Connor Pavolony (17) on a sacrifice bunt in the fifth inning at TD Ameritrade Park. Mandatory Credit: Steven Branscombe-USA TODAY Sports /
The Oakland A's may have stolen Zack Gelof in the 2021 MLB Draft. Selected in the second round due to a somewhat disappointing junior year at the University of Virginia, Gelof hit the ground running in his first season in professional ball, establishing himself as one of the A's top prospects.
It took just one game in Rookie Ball for Gelof to be promoted after he was 2-2 with two steals. From there, he performed well with the Stockton Ports, leading to a late season promotion to Triple-A. Despite just 33 professional games, he more than held his own, with seven hits in 13 plate appearances, drawing a walk and striking out just twice.
How soon can the Oakland A's expect Zack Gelof?
As one could expect, Gelof had an impressive statistical showing between those three levels. He produced an excellent .333/.422/.565 batting line in his 161 plate appearances, hitting seven homers and nine doubles while stealing 13 bases. It is easy to see why the A's would be excited about his future based on that production.
Likewise, it is fair to wonder when Gelof will make his major league debut. His brief stint at Triple-A certainly opened some eyes and gave the appearance that he could be a fast riser through the system. With the A's expected to undergo a fire sale and a potential lack of talent at the major league level, Gelof could be on the fast track.
But it is fair to say that he needs more time in the minors. There are questions about whether or not he will remain at third base, with a shift to a corner outfield spot a possibility. His bat should play up regardless of his position, but he will still need to develop defensively.
That could be the only thing that holds Gelof back. Chances are, he will begin the 2022 campaign in High-A, and could see a promotion to Double-A if he continues to hit and his defense improves. Should that be the case, it may not be outside the realm of possibility that Gelof gets a brief look in the majors at the end of 2023.
It is easy to get excited about Zack Gelof's future. His time with the Oakland A's could come even sooner than anyone could have imagined.