Jeremy Giambi serves as cautionary tale about mental health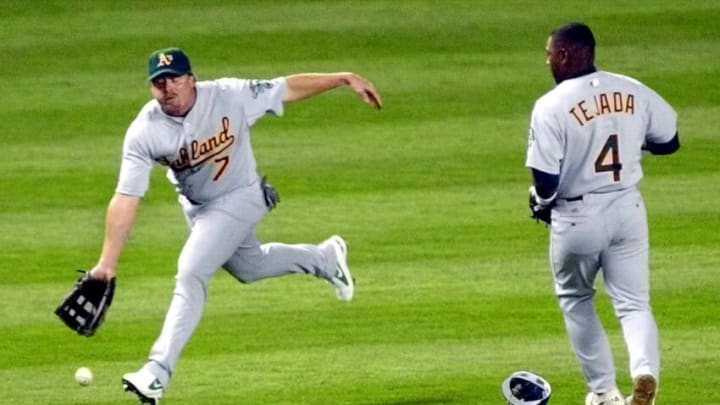 Oakland Athletics left fielder Jeremy Giambi (L) and shortstop MiguelTejada can't come up with a bloop double off the bat of New York Yankee second baseman Alfonso Soriano in the fifth inning 01 May 2002 at Yankee Stadium in the Bronx, NY. AFP PHOTO/Matt CAMPBELL (Photo by MATT CAMPBELL / AFP) (Photo credit should read MATT CAMPBELL/AFP via Getty Images) /
The baseball world was shocked on Wednesday when it was announced that Jeremy Giambi had passed away at 47 years old. He had been reportedly found at his parent's house, but no other details had come out at the time.
A cause of death was revealed on Thursday. Giambi had committed suicide, choosing to end his life with a self-inflicted shotgun wound in the chest.
Jeremy Giambi serves as cautionary tale
One had to assume the worst when Giambi had passed. His former teammate, Barry Zito, had said that Giambi was "an incredibly loving human being with a very soft heart and it was evident to us as his teammates that he had some deeper battles going on."
Mental health is something that people do not talk about nearly enough. While there has been more of a focus on it in recent years, far too often people are told to "look on the bright side" or that "others have it worse." And yet, these are also the people that, after the fact, claim that they would have been there had the person reached out to them.
Sports, for as much as we may love them, are also a rough place for those with mental health problems. Players are trained to seize on any weakness they find and exploit it. At times, that involves mental health, leading people to hide their problems.
It is easy to say that Giambi should have sought help, that he should have turned to someone he trusted. It is easy to say that things will get better. But until one has been in that spot, and walked in the shoes of someone with those mental health issues, they cannot understand the desperation and the desire to just have that pain go away permanently. That is especially the case when one feels that there is nowhere to go and no one they can talk to.
And that is where the disconnect lies. There are not any better days when held in the grips of depression. That bright side is not there. There is only pain and darkness, mixed with an urge to find a way out. In Giambi's case, that led to a permanent solution to what others may think was a temporary problem.
Jeremy Giambi is the only person that knows what was going on in his mind when he decided to pull the trigger. Unless he left a note behind to explain his reasons, all we have is speculation. We can only hope that he has now found peace and that his passing can help move the conversation about mental health forward.
It has been revealed that Jeremy Giambi committed suicide on Wednesday. Hopefully, he is now at peace and in a better place than he found in life.