Oakland A's part of five team pact for minor league training camp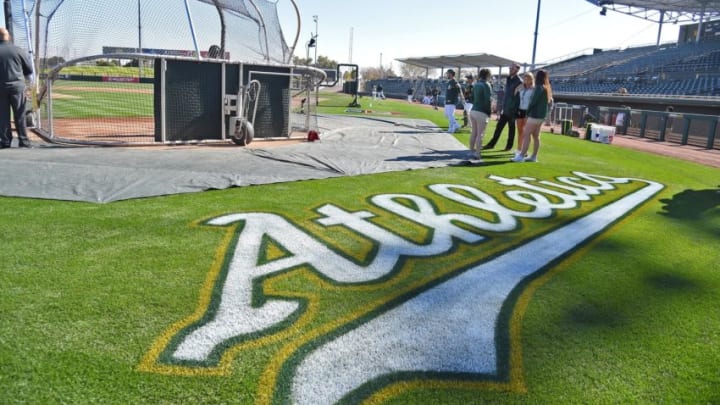 Feb 23, 2018; Mesa, AZ, USA; A general view of a logo on the field prior to the game between the Los Angeles Angels and the Oakland Athletics at Hohokam Stadium. Mandatory Credit: Jayne Kamin-Oncea-USA TODAY Sports /
The Rule V Draft is one of the many things impacted by the ongoing MLB lockout. While the draft usually takes place in December, it was postponed until the lockout came to an end. As that does not appear to be happening any time soon, front office executives are asking that the draft be canceled outright this year.
This has led to some major league teams barring opposing scouts from attending their minor league camps. However, the Oakland A's are not one of those teams, as they have joined the Brewers, Mariners, Rays, and Reds as the only teams to still allow opposing scouts into camp, creating a pact of mutual cooperation.
Oakland A's part of five team pact
One can understand why teams would want to keep scouts from their from their facilities. This allows those teams to potentially keep the players who took that next step over the offseason but are not on the 40 man roster, forcing teams to rely upon outdated scouting reports. Those players could slide under the radar, letting teams keep pieces that they did not expect to come as far as they have.
But it makes sense for the A's to refuse to do that. As they are expected to be entering a fire sale once the lockout ends, they are going to want to see prospects on other teams. The Mariners are one of those teams that have frequently appeared in trade rumors with the A's, as their inclusion could lead to easier trade talks.
It may be possible that other teams looking to make a deal will join this group as well. The Reds are also looking to shed salary, and the Rays operate on a budget that can be found under couch cushions. This pact of mutual cooperation could only be starting.
White Cleat Beat /
Want your voice heard? Join the White Cleat Beat team!
The Oakland A's are allowing opposing scout into their minor league camp. They have become part of a five team pact of mutual cooperation.