Oakland A's set mark for lowest attendance in four decades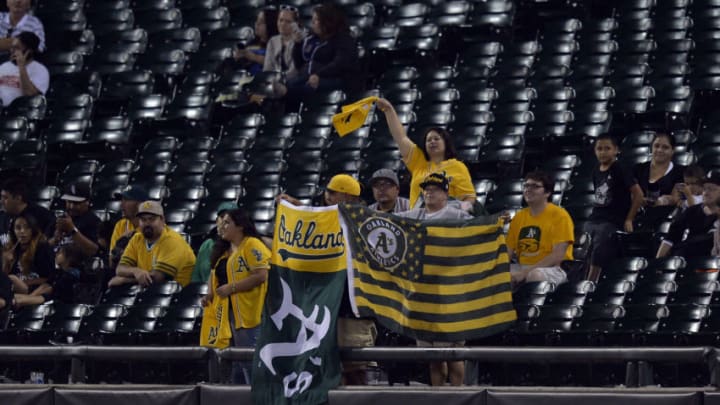 CHICAGO, IL - SEPTEMBER 8: Oakland Athletics fans cheer during the twelfth inning against the Chicago White Sox at U.S. Cellular Field on September 8, 2014 in Chicago, Illinois. The White Sox defeated the Athletics 5-4 in 12 innings. (Photo by Brian D. Kersey/Getty Images) /
The phrase "plenty of good seats are still available" is going to be a common refrain regarding the Oakland A's this year. Ownership has gone out of their way to alienate the fanbase, and fans have essentially declared war on the John FIsher. This is a battle that does not seem as though it is going to end any time soon.
It is also fair to wonder which side is losing. At first glance, one would say A's ownership is, especially after Wednesday's attendance. Only 2,703 fans "packed" into the Coliseum to watch the A's 1-0 loss to the Orioles, their lowest attendance since 1980.
Oakland A's fans showing displeasure with their wallets
In a way, it is unfortunate that so few fans are at the stadium. This is what ownership wants after all, a scapegoat that they can point to as they get out of Oakland as quickly as possible. And the A's do have an exciting roster that is playing far above expectations to this point.
But this is also about sending a message. John Fisher does not care what anyone thinks as long as the money keeps coming in. If the A's fans stay away from the ballpark, that hurts his bottom line. He will still make his beloved profit and line his bank account, but it will not be nearly as large as he would have hoped.
This laughably low attendance figure also makes one wonder how low that number can get. The A's are not going to magically spend money at the trade deadline; if anything, they will trade Frankie Montas away regardless of their place in the postseason picture. The fans have revolted against ownership and ownership is laughing as they play into their hands.
The Oakland A's had their lowest attendance in 42 years on Wednesday night. Expect that number to get lower as the fans continue to revolt.