Youth is being served with Oakland A's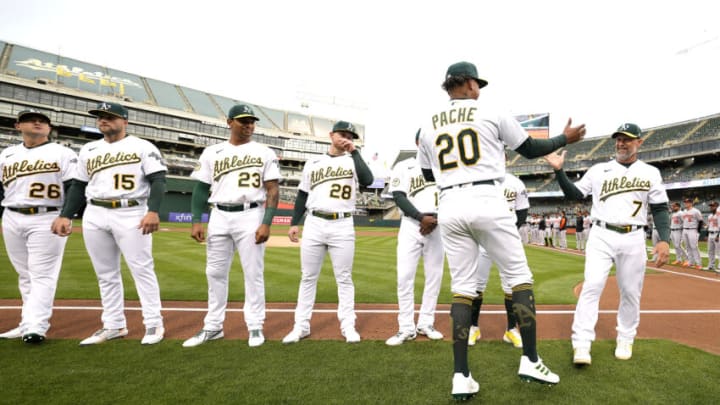 OAKLAND, CALIFORNIA - APRIL 18: Cristian Pache #20 of the Oakland Athletics greets manager Mark Kotsay #7 and teammates during player introduction prior to the start of their home opener against the Baltimore Orioles at RingCentral Coliseum on April 18, 2022 in Oakland, California. (Photo by Thearon W. Henderson/Getty Images) /
The Oakland A's knew that they would have to rely upon their youth in order to get through the 2022 season. However, one could reasonably state that they had not expected to have so many prospects make appearances at the major league level this early in the season.
The A's have played 13 games heading into Thursday. Over the course of those 13 games, 15 rookies have already suited up for Oakland, with seven of them making their major league debuts thus far this year.
Younger players seeing opportunities with Oakland A's
It was known that the A's would have plenty of opportunities for players to step up during the season. As they shipped away their top players and refused to do much of anything in free agency, there would be chances for their prospects. It was just a matter of those younger players being able to seize the opportunities before them.
Several players have been able to do exactly that. It has not taken long for Cristian Pache to become a fan favorite, exciting those who are showing up to the ballpark with his enthusiasm, impressive defense, and solid contributions at the plate. Kevin Smith was showing signs of being a solid major leaguer, especially with the glove. Daulton Jefferies is showing that he can be a key part of a major league rotation.
Other rookies are going to get their chances. As injuries occur, or other players struggles, the A's are going to have a pipeline running from Las Vegas to give their Triple-A players a look. Some of these players will prove to be major league assets. Others will not. But it is all about getting that chance.
There will be plenty of other rookies appearing for the A's this season. There will be plenty of major league debuts in Oakland this year, with players getting that first call to the majors. Youth will continue to be served for the A's.
The Oakland A's have already had 15 rookies and seven major league debuts this year. Youth is certainly going to be served in 2022.