Oakland A's ownership taking cheapness to another level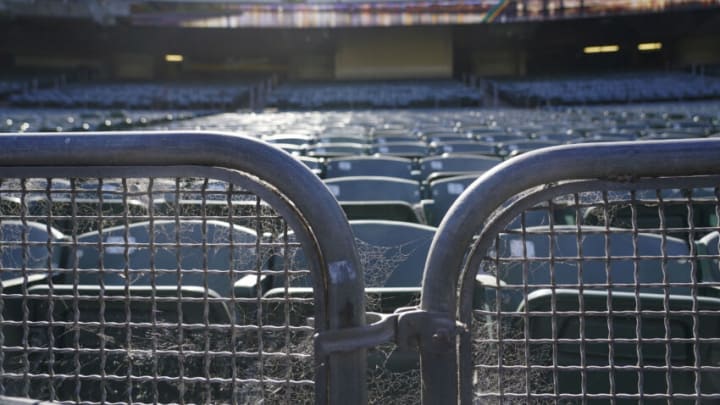 July 9, 2020; Oakland, California, United States; Detail view of a seat fencing with spiderwebs during a Spring Training workout at RingCentral Coliseum. Mandatory Credit: Kyle Terada-USA TODAY Sports /
Considering that no one is going to the ballpark, one would think that the Oakland A's would treat those few fans at the Coliseum well. Maybe they would get some perks, such as functioning seats or indoor plumbing. Okay, that last one is a little too much to expect.
Seats, however, should not be a problem. But this is John Fisher we are talking about. His direct war on the fanbase has continued as the A's have replaced a pair of broken seats with…folding chairs.
Oakland A's find new low to sink to
Why stop there? The A's could cut costs even more by ripping all the seats out and saving a few pennies on maintenance. It could even be a new promotion – BYOS (Bring Your Own Seat). Of course, the A's might look to find a way to charge those fans bringing in their own seats for the luxury of not sitting on the concrete steps.
There is no question that the Coliseum needs to be replaced. That has been the case for a long time now, with the A's battle to get a new ballpark in Oakland in the middle of its third decade. It is also clear that ownership has zero interest in paying for even the most basic of maintenance in the ballpark.
After all, it is not like there are any fans in the stadium. No one would really notice if a few seats were broken and/or removed. If anyone said anything, they could claim that they were just providing some leg room for the dozens of people in the ballpark. Or, they could have claimed that the cats took them and no one would have known any different.
In the end, this just makes Fisher and the A's look even worse. How much could it possibly cost to repair a couple of seats, or replace them with newer ones? Instead, they just took those seats out and put in a pair of folding chairs because that is entirely acceptable for a major league organization. Even Mr. Crabs might pony up the money.
The Oakland A's have replaced a pair of broken seats with folding chairs. Just when you think ownership cannot get any cheaper, they find a new low.