Cristian Pache becoming a dilemma for Oakland A's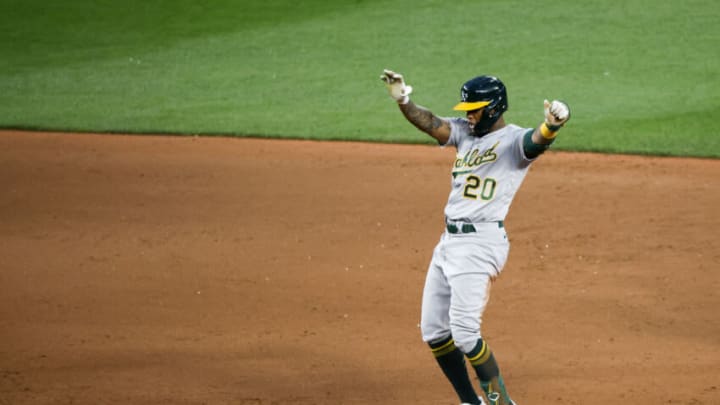 May 23, 2022; Seattle, Washington, USA; Oakland Athletics center fielder Cristian Pache (20) reacts after hitting a two-run double against the Seattle Mariners during the sixth inning at T-Mobile Park. Mandatory Credit: Joe Nicholson-USA TODAY Sports /
Cristian Pache has been almost everything that the Oakland A's could have hoped for. He has been excellent defensively, embraced the fan base, and has worked as hard as possible to be a success in Oakland. If heart and desire were results, Pache would be a star.
Unfortunately, results are results. It is there that Pache is lacking as he has easily been the worst player in the majors with the bat thus far in 2022.
Oakland A's will give Cristian Pache his chances
Heading into Sunday, Pache had posted a miserable .163/.197/.241 batting line in his 148 plate appearances, hitting three homers and two homers. His 31 OPS+ for the year is actually an improvement over the 18 OPS+ that he had posted through 220 career plate appearances to that point. Even Rafael Belliard thinks that level of production at the plate is embarrassing.
Right now, the A's do not have much of a choice but to let Pache figure things out. He was one of the centerpieces in the Matt Olson trade, someone that they hoped would be able to turn into another Ramon Laureano. That may be a lot more than reality.
However, he had just those 220 major league plate appearances entering Sunday's action. It does take players time to figure out the majors as they acclimate. Pache is also getting used to the A's organization, having been traded just before the start of the season.
There is hope that Pache can change the narrative of his career. He reached base four times on Sunday and has been hitting to the opposite field far more recently. Maybe he is starting to figure things out with the bat and just needed more time. The A's certainly hope that is the case.
Cristian Pache has been everything the Oakland A's wanted aside from his inability to hit. However, he will get his chances to prove himself.