The hits should come soon for Cristian Pache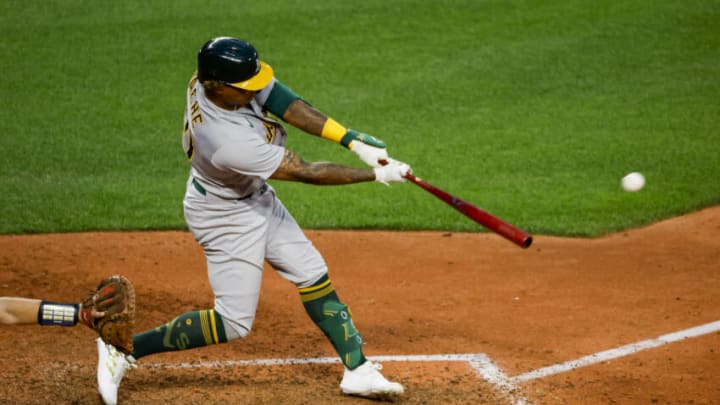 May 23, 2022; Seattle, Washington, USA; Oakland Athletics center fielder Cristian Pache (20) hits a two-run double against the Seattle Mariners during the sixth inning at T-Mobile Park. Mandatory Credit: Joe Nicholson-USA TODAY Sports /
The Oakland A's site had an interesting headline about Cristian Pache. Essentially, they said not to look at his statistics when it came to judging his performance at the plate thus far. Instead, they argued, one has to look beyond and see how he is hitting the ball.
It is impossible to ignore that stat block when it comes across the television screen or when looking at Pache's player page. His .169/.210/.240 batting line, translating to a 34 OPS+, is the worst in the majors by a wide margin. That lack of production certainly stands out.
Cristian Pache should see results soon
However, Pache has been hitting the ball hard. He is in the 82nd percentile in average exit velocity and 75th percentile in hard hit rate. His expected batting line of .257/.289/.373 would be a drastic upgrade over what the A's have received. Likewise, there would not be any questions about his ability to be an every day player if he was producing at that rate.
It also does not help that he has had practically no luck when he has put the ball in play. Pache has a .212 batting average on balls in play this year, a number that is astonishingly low considering how hard he has hit the ball and his inherent speed. However, as he continually hits the ball on the ground, his margin for success is limited.
But there are signs. Pache has started hitting the ball the other way more. He has begun getting on base more frequently, reaching six times in his past five games. It may just be a small sample size, but it is certainly something that Pache can build on.
That recent production is also a glimmer of hope. Pache may be starting to see his luck turn around, allowing his batting line to get closer to where it should be based on how he has hit the ball. Maybe, just maybe, those results will be coming.
The Oakland A's are not worried about Cristian Pache's performance at the plate. Based on his metrics, those hits are coming soon.