Oakland A's go on offensive about Coliseum conditions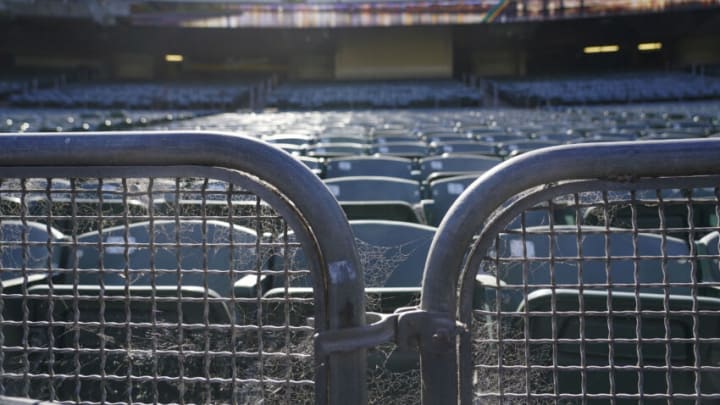 July 9, 2020; Oakland, California, United States; Detail view of a seat fencing with spiderwebs during a Spring Training workout at RingCentral Coliseum. Mandatory Credit: Kyle Terada-USA TODAY Sports /
The Oakland A's have received a great deal of derision for their lack of attendance. They have averaged approximately 7500 fans per game entering Friday, a number that is less than some minor league or collegiate teams. It also should not be a surprise that they have not drawn fans considering that they doubled ticket prices, got rid of popular promotions, and dumped their star players before the beginning of the season.
According to A's ownership, those decisions are not why the team cannot bring fans to the ballpark. Instead, it is the Coliseum's fault due to a myriad of issues that they detailed in a letter sent to Coliseum Authority Executive Director Henry Gardner.
Oakland A's provide laughable excuse for dwindling attendance
The A's do bring up some good points. The feline fecal matter throughout the stadium does not help with the ambiance. Meanwhile, the broken seats, plumbing issues, a moth infestation, possums, a nearby homeless encampment, and other issues do not help with the experience.
But to blame the Coliseum for all of the A's attendance woes is laughable at best. The fanbase as a whole has seemingly declared war on John Fisher and A's ownership, refusing to give them any of their money. That includes boycotting any home games.
There is a saying that, when one points a finger, the rest are pointing back at them. That is absolutely the case with the A's as they attempt to find any reason possible as to why their attendance issues are not their fault.
The Coliseum certainly has issues. While it may be beloved as The Last Dive Bar in baseball, a new stadium has been needed for years. But to claim that those issues are why fans are staying away when ownership slashed payroll to put more money in their pockets is asinine.
The Oakland A's are making their problems with the Coliseum known. However, the ballpark is not why fans are staying at home instead of watching in person.