Yermin Mercedes is worth a look for Oakland A's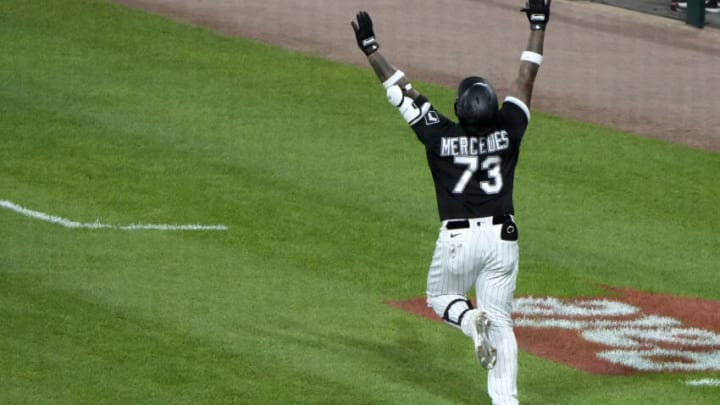 Jun 4, 2021; Chicago, Illinois, USA; Chicago White Sox catcher Yermin Mercedes (73) reacts after hitting the winning run against the Detroit Tigers during the ninth inning at Guaranteed Rate Field. Mandatory Credit: Mike Dinovo-USA TODAY Sports /
There was a six week period at the start of the 2021 season when Yermin Mercedes was one of the hottest players in baseball. The long time minor leaguer had finally gotten a chance with the White Sox and rewarded that faith as he led the league in batting average. Then, he made the mistake of hitting a home run on a 3-0 pitch in a blowout, raising the ire of manager Tony La Russa, who refused to defend his own player after Mercedes was thrown at in the following game.
From that moment, Mercedes was not the same player. His production plummeted and he was sent to Triple-A at the beginning of July, never to return. Now, he has been designated for assignment as the White Sox needed to free up a spot on the 40 man roster.
Yermin Mercedes could be viable option for Oakland A's
Mercedes did not exactly force the White Sox to consider him for a spot in the majors this year. His 20 walks in 109 plate appearances is solid, but it fueled his .230/.376/.426 batting line. He did hit four homers and five doubles, but just was not producing at the rate he typically had in the minors.
It is clear that he needs a change of scenery. The joy was gone from his game after La Russa threw him under the bus due to his ignoring the archaic concept of the unwritten rules of the game. He needs to go to a team that will allow him to be himself and give him an opportunity.
That team should be the Oakland A's. Mercedes may strictly be a designated hitter as he does not have a position, but he can fill in behind the plate and at the corners of the infield. He also has all six years of team control left, and with a lifetime .280/.356/.526 batting line with 32 homers and 24 doubles in 568 plate appearances, has nothing left to prove at Triple-A.
The A's have a desperate need for anything that can provide offense. Jed Lowrie may have had a good career wearing the green and gold, but his 72 OPS+ shows that all he can do is provide memories right now. Enough players without as much of a track record have gotten a chance in Oakland – it is time that they bring in someone with much more upside such as Mercedes.
The Oakland A's need to find someone that can actually swing the bat with some level of competence. They have an candidate with Yermin Mercedes.