MLB keeps pushing Oakland A's towards Las Vegas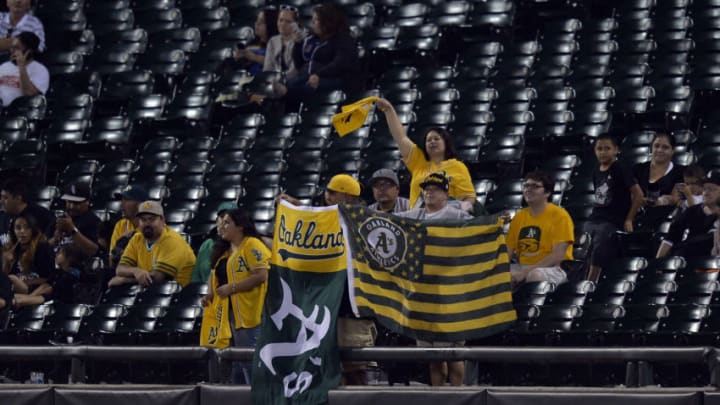 CHICAGO, IL - SEPTEMBER 8: Oakland Athletics fans cheer during the twelfth inning against the Chicago White Sox at U.S. Cellular Field on September 8, 2014 in Chicago, Illinois. The White Sox defeated the Athletics 5-4 in 12 innings. (Photo by Brian D. Kersey/Getty Images) /
In theory, Major League Baseball should be pleased with whatever happens with the Oakland A's. If the Howard Terminal Project happens, and the A's get their new waterfront ballpark, it is one less issue for the league to worry about. Otherwise, the A's will head to Las Vegas, where MLB desperately wants to have a team.
The league may have made its preference known. According to the New York Post, the league may not charge the A's a relocation fee if they move to Las Vegas, potentially saving the team up to $1 billion. As a new stadium in Las Vegas would primarily be financed by the team, it would be a major financial break to have that relocation fee put aside.
MLB showing hand when it comes to Oakland A's
Having a team in Las Vegas would continue the unholy alliance between the league and legalized gambling. Not only would there be a physical presence for the league right in the heart of the city, but they are looking to have this stadium right on the strip if possible. A deal with an established casino has been rumored to be in discussions. And yet, Pete Rose will still be signing balls at a casino while being banned from the game.
This decision is also a bit of a surprise. The Post also noted that the team owners they spoke to under the promise of anonymity were shocked that the A's could get a free pass to move to Las Vegas.
But this is about what the league wants for the long term. And what they want is a team in Las Vegas sooner rather than later. If that means that they push the A's out the door in Oakland by making it worth their while financially, then so be it as for as MLB is apparently concerned.
Nothing is a given. The Howard Terminal Project is still coming to a vote for the binding resolution in a few days. However, it seems as though Oakland could give the A's everything they want, and it would not be enough for the league.
Major League Baseball is making it clear as to where they want the Oakland A's. They seem to be practically pushing them towards Las Vegas.