Oakland A's ballpark hopes clear important hurdle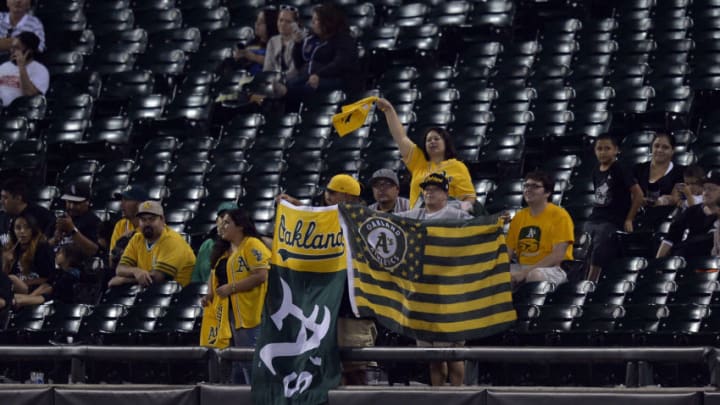 CHICAGO, IL - SEPTEMBER 8: Oakland Athletics fans cheer during the twelfth inning against the Chicago White Sox at U.S. Cellular Field on September 8, 2014 in Chicago, Illinois. The White Sox defeated the Athletics 5-4 in 12 innings. (Photo by Brian D. Kersey/Getty Images) /
Absolutely nothing is finalized as it comes to the Oakland A's hopes for a new ballpark at Howard Terminal, but another step forward has been made.
On Thursday, the San Francisco Bay Conservation and Development Commission voted 23-2 in favor of removing the priority port use designation from Howard Terminal. In doing so, the A's are another step closer to their waterfront ballpark and the development of the surrounding area.
Oakland A's moving closer to Howard Terminal ballpark
The results were better than the A's had anticipated as well. Team president Dave Kaval said that the results were a "huge win" for the ballpark, the A's, and the future of Oakland. As the team felt they had 17 to 18 votes, having the motion succeed by such a wide margin is a great sign.
Although this is a major step forward, the A's waterfront ballpark is not yet guaranteed. There are other committees and agencies that need to sign off on the project. Additionally, the A's and the City of Oakland need to enter a binding development agreement regarding the construction of the stadium and the surrounding land.
That development agreement may be the biggest sticking point. Both sides need to come to an agreement regarding financing and who will pay how much for what. That has been a source of contention as the project continued to move forward.
In theory, the A's and the city have until 2025 to come to an agreement and have that resolution put into place. However, the A's lease on the Coliseum ends after the 2024 season, making it more important to get something done as soon as possible. That need for a new ballpark in the very near future has to cause that timeline to accelerate.
For the A's, the goal is to have that vote by September or October since Mayor Libby Schaaf is in office through this year. As she has been a vigorous supporter of the new ballpark, having to recreate that same rapport with a new mayor may be problematic and could throw off the timeline.
There are still going to be bumps in the road. The binding agreement may be the biggest one, but nothing is guaranteed at this point. It is, however, a step forward for the A's to get their new ballpark.
The Oakland A's are a step closer to their Howard Terminal ballpark. Nothing is definite, but the A's are closer to being rooted in Oakland.