Oakland A's payroll falls behind even more MLB player salaries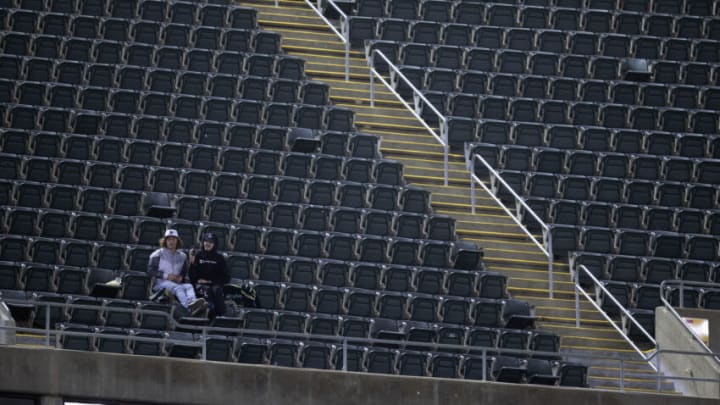 May 2, 2022; Oakland, California, USA; Two Oakland Athletics fans have the upper deck to themselves during the eighth inning of a game between the A's and the Tampa Bay Rays at RingCentral Coliseum. The announced attendance for the game was 2,488. Mandatory Credit: D. Ross Cameron-USA TODAY Sports /
The Oakland A's were looking to slash payroll as far as they could. While that job was done in the offseason, further moves at the deadline would only push their obligations even lower.
Such was the case when they traded Frankie Montas and Lou Trivino. Now, with those deals, the A's payroll has dropped to a point where five different players have a higher salary than their entire active payroll.
Oakland A's payroll is getting embarrassing
It is interesting that two different teams have two players making more than the A's. The Angels are struggling to stay ahead of Oakland in the standings despite Mike Trout and Anthony Rendon having a higher salary than the entire roster. The Mets, meanwhile, are at least leading their division while Jacob deGrom and Max Scherzer outpace the A's active players.
This number could drop even further. It is possible that the A's could find a taker for Elvis Andrus. Maybe Stephen Vogt moves along as a team seeks that veteran backup catcher that is always popular at the deadline. Jed Lowrie had been discussed as a trade candidate before, but since he was injured, that ship has likely sailed.
Chances are, the A's are not done. Even if moves are made this offseason, they will look to get rid of as many players as they can to save as much money as possible. Players such as Shea Langeliers will have a prominent role as they look towards the future core, even if that will be sent packing as well in another four or five years.
The Oakland A's payroll is less than the salaries of five major league players. This is starting to get to the point where ownership should be embarrassed.