Oakland A's attendance at pathetic level on Monday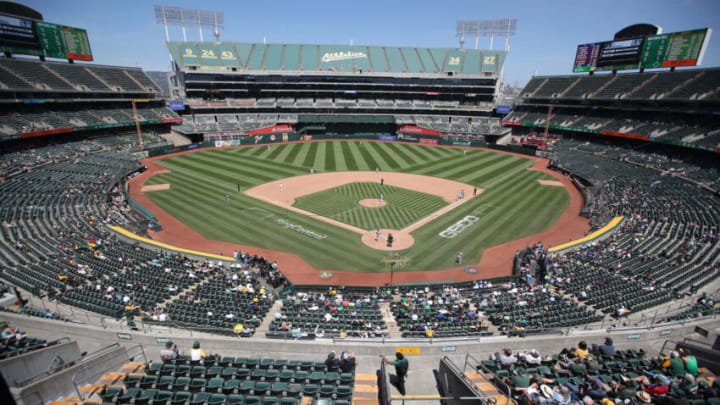 OAKLAND, CA - MAY 18: A view of RingCentral Coliseum during the game between the Oakland Athletics and the Minnesota Twins on May 18, 2022 in Oakland, California. The Twins defeated the Athletics 14-4. (Photo by Michael Zagaris/Oakland Athletics/Getty Images) /
Considering the Oakland A's struggles to have fans in the stands, no one should have expected anything to change with the Miami Marlins in town.
That proved to be the case on Monday. The announced attendance for the A's game against the Marlins was just 2630, although it may be fair to wonder how much of that number was human.
Oakland A's attendance continues to embarrass
One can understand why the Marlins would not be a drawing card. They are one of the worst teams in the National League, a featureless franchise without anything that would bring fans to the ballpark. Add in the general refusal from A's fans to go to the Coliseum and put more money in John Fisher's pockets, and it is a recipe for tumbleweeds in the stands.
It should not be much of a surprise that the A's failed to generate much of a crowd again. They are averaging just 9456 fans per game, the only team in the majors to average fewer than 11,000 fans. That number is actually an improvement as the A's were averaging just over 7000 fans at the beginning of June.
Amazingly, that is not even the lowest attendance for an A's game this year. Back on May 2, the A's drew just 2488 fans for their game against the Rays. Although the Rays actually draw approximately 3000 more fans at home than the Marlins (the two teams are 28th and 29th in attendance respectively), the allure of interleague play may have resulted in those extra 142 fans on Monday.
This is not likely to change. While the A's are playing hard, there is a dramatic dearth of major league caliber talent on the roster. Of course, that happens when ownership slashes payroll to the lowest point it has been at over the past 20 years and doubles ticket prices in the same offseason.
Oakland A's attendance has been a joke this season. Everyone kept on laughing on Monday as they drew just 2630 fans to the Coliseum.