Oakland A's fans investigated for possible sex act during game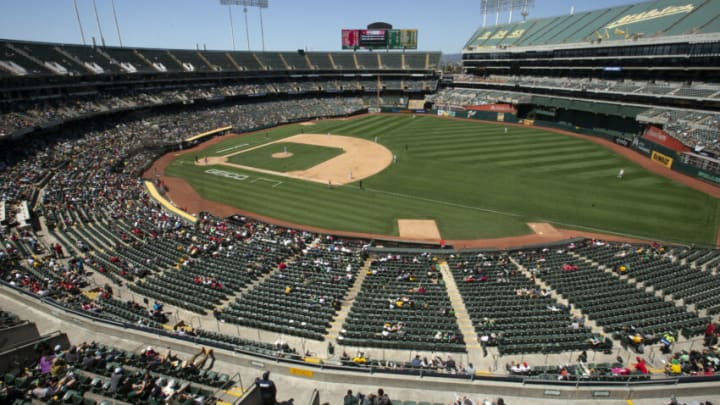 Jul 20, 2021; Oakland, California, USA; A general view of RingCentral Coliseum during the sixth inning of a game between the Los Angeles Angels and Oakland Athletics. Mandatory Credit: D. Ross Cameron-USA TODAY Sports /
Fans never know what they will see during a baseball game. Every game has the possibility of something happening that has never happened before. Or, in the case of the Oakland A's, one could get an unexpected view in the stands.
That was especially the case during the A's 5-3 victory over the Mariners on Sunday. A couple of fans are being investigated for a possible sex act during the game, which had been caught on camera and posted to social media.
Pair of Oakland A's fans need to get a room
One could understand why that couple would have thought they had some privacy. The article from KRON4.com did note that they were alone in section 334 when the act occurred. As the A's are averaging under 10,000 fans per game, they were not exactly in a crowded area.
Likewise, one would have expected those fans in the stands to be watching the action on the diamond instead of scanning those levels where virtually no one was seated. But fans get bored and scan the crowd, leading to that video and subsequent investigation.
Those fans certainly should have known better. If they were so desperate to have the type of story that no one would believe, they could have at least waited until the A's move to Las Vegas (should that occur). No one would bat an eye at that act there.
Instead, the two fans are now being investigated for a violation of 647(a) PC. Lewd acts in public. The fans have not been identified, and no one has been arrested at this point. That risk certainly outweighs the type of story that few would be able to top.
A pair of Oakland A's fans are being invested for a possible sex act during Sunday's game. You never know what you're going to see at the ballpark.