Will Oakland A's keep Tony Kemp around for 2023?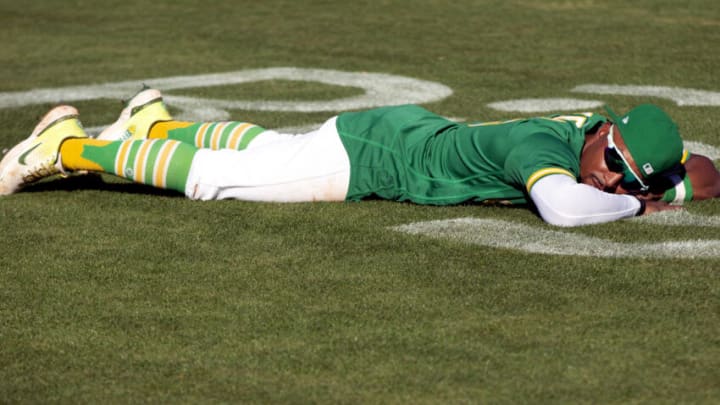 Oct 5, 2022; Oakland, California, USA; Oakland Athletics left fielder Tony Kemp (5) lays on the field following his team's final game of the season, a 3-2 victory over the Los Angeles Angels at RingCentral Coliseum. Mandatory Credit: D. Ross Cameron-USA TODAY Sports /
Tony Kemp poses an interesting dilemma for the Oakland A's.
The A's are not going to spend much money on salary this season. Kemp earned $2.25 million last season and will receive a raise in his final year of arbitration. He is a valued figure in the clubhouse and in the community, someone that has taken on a leadership role, but the A's have that constant financial problem. Likewise, his ability to play second and left have value to the A's quest of roster flexibility.
Is Tony Kemp worth the money for the Oakland A's?
The problem is that Kemp did not produce much when he played. He produced a disappointing .235/.307/.334 batting line in his 558 plate appearances, hitting seven homers and 24 doubles. Defensively, he cost the A's two runs at second and was exactly average in left. That package fuels the speculation that Kemp may not be tendered a contract and could find himself in free agency.
Even then, Kemp has another side. His overall numbers were dragged down by a horrific start to the season as he posted an excellent .282/.345/.435 batting line over his final 60 games, hitting five homers and 13 doubles while stealing five bases. That performance was much closer to his breakout 2021 campaign where he produced a career best 126 OPS+ with eight homers.
Kemp is not likely to be the player he was in 2021 nor is he likely to be the player his overall 2022 numbers would indicate. The reality is that he is probably somewhere in between the two, a solid enough option at either second or left whose presence in the clubhouse and community could make a bigger impact than his performance on the diamond. But are the A's willing to pay for that?
This is the multi-million dollar question. While ownership likely dreams about fielding a team where every player makes the league minimum and they can hoard as much money as possible, that is not reality. They will need some veteran options to fill out the roster, even if that is just for trade fodder at the deadline.
It is possible that the Oakland A's decide to move on from Tony Kemp. However, considering what he means to the community and locker room, they might pony up the cash.