A closer look at Huston Street's Hall of Fame candidacy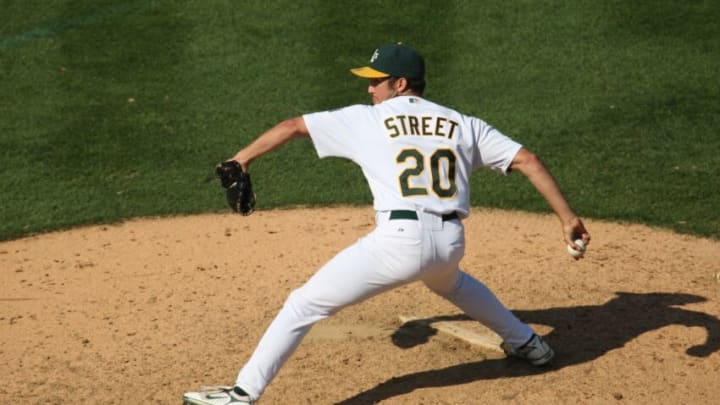 OAKLAND, CA - SEPTEMBER 14: Huston Street of the Oakland Athletics pitches during the game against the Texas Rangers at the McAfee Coliseum in Oakland, California on September 14, 2008. The Athletics defeated the Rangers 7-4. (Photo by Brad Mangin/MLB Photos via Getty Images) /
There is just one candidate on the Hall of Fame ballot to have spent a portion of his major league career with the Oakland A's – Huston Street.
A rookie sensation in 2005, Street was the A's closer for four years before being sent to Colorado as part of the return for Matt Holliday. While he had established himself as a solid option, the A's had Andrew Bailey waiting in the wings, allowing for Street to be traded away.
Huston Street facing long odds for Hall of Fame
He had a solid four year run in Oakland. The 2005 AL Rookie of the Year, Street posted a 2.88 ERA and a 1.071 WHiP in his 269 innings for the A's, notching 94 saves while striking out 271 batters and issuing just 78 walks. It was understandable as to why the Rockies would have wanted him as part of the return for a star such as Holliday.
That was the beginning of a solid career. A two time All Star, Street ranks 20th all time in MLB history with his 324 saves. He posted a 2.95 ERA and a 1.066 WHiP over his 680 innings, striking out 665 batters with 183 walks. As injuries ended his career at just 33 years old, it is fair to wonder what could have been.
But what could have been does not matter when it comes to the Hall of Fame. If it did, the likes of Ray Chapman, Tony Conigliaro, and Johan Santana would be inducted. Instead, it is a matter of what those players did on the diamond during their respective careers. In this case, while Street would be a member of the Hall of Very Good, he just does not have the credentials for the Hall of Fame.
Huston Street had a very good career but it was not Hall of Fame caliber. He will be hard pressed to get a second year on the ballot.