Oakland A's reportedly down to one Las Vegas stadium site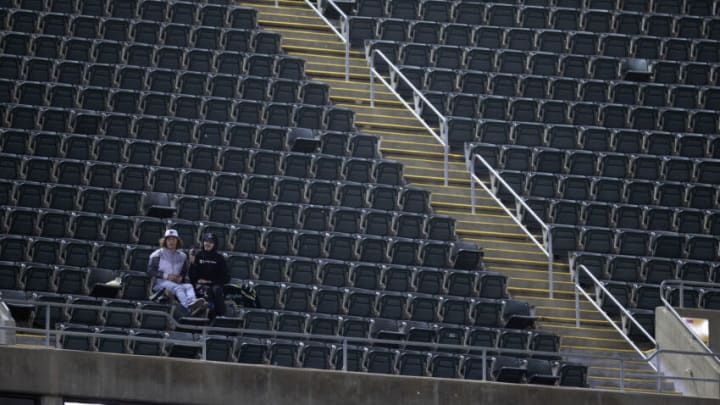 May 2, 2022; Oakland, California, USA; Two Oakland Athletics fans have the upper deck to themselves during the eighth inning of a game between the A's and the Tampa Bay Rays at RingCentral Coliseum. The announced attendance for the game was 2,488. Mandatory Credit: D. Ross Cameron-USA TODAY Sports /
If the Oakland A's are going to move to Las Vegas, there is only one place left to go.
The A's had reportedly been looking at the current site of the Tropicana Resort and Casino and the Las Vegas Festival Grounds as their final two spots for a potential ballpark. However, according to the Las Vegas Journal-Review, talks about the Festival Grounds have "gone quiet" recently, leaving the Tropicana as the final option.
Oakland A's may be done to final choice in Las Vegas hunt
The A's have been clear about their desire to build a ballpark on the strip if they move to Las Vegas. Having the stadium right there, where people are walking or driving by, could be a draw as tourists look for something different than heading to a casino.
The A's have also been linked to the Tropicana site for some time. They had reportedly placed an offer on the location towards the end of 2021, although those hopes were seemingly dashed when Bally's Corp. purchased the historic casino. Instead, Bally's and the A's have been discussing plans to put a ballpark in as part of the location.
This explains some of the recent reports regarding John Fisher and the Howard Terminal Project. He had stated that he was feeling "doubtful" about the A's getting that long hoped for waterfront ballpark, although those dreams are not dead yet. Nonetheless, with MLB seemingly pushing the A's to Las Vegas, one has to wonder how much ownership actually wants that ballpark to happen.
There is still a lot of work to be done regardless of where the A's will end up in the next few years. A new ballpark will not be ready before their lease on the Coliseum is over, meaning that the A's will need to find someplace to be, even if temporarily. By that point, the A's will hopefully know where they will end up.
The Oakland A's may be down to just one stadium site in Las Vegas. At this point, the Tropicana may be the only option left.