Streaking Oakland A's used to long runs during regular season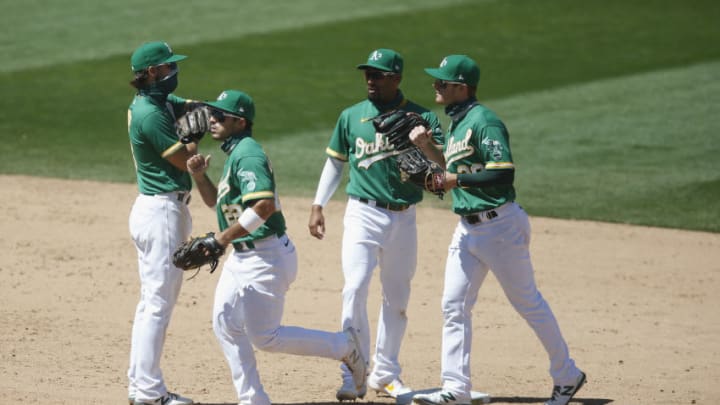 OAKLAND, CALIFORNIA - AUGUST 06: Oakland Athletics players Chad Pinder #18, Ramon Laureano #22, Marcus Semien #10 and Mark Canha #20 celebrate after a win against the Texas Rangers at Oakland-Alameda County Coliseum on August 06, 2020 in Oakland, California. (Photo by Lachlan Cunningham/Getty Images) /
The Oakland A's are on an impressive winning streak, but that does not mean anything when it comes to the postseason.
With the Oakland A's facing so many obstacles, as all teams are in the 2020 60-game season, there is no denying that their current nine-game winning is impressive. And if you subscribe to the formula popularized by baseball stat geeks that each victory is worth 2.7 wins in a normal season, the A's would be currently riding a 24-game winning streak.
That alone proves that the new win formula is ridiculous and irrelevant. Too many other factors come into play. But since moving to Oakland, the A's had six streaks of 10 wins or greater that are worth revisiting.
The 2002 20-game winning streak was so impressive, they made a movie about it. While the film was highly entertaining and garnered an Academy Award nomination for Best Picture, it virtually ignored that the A's had a "lights out" starting rotation headed by Barry Zito, Tim Hudson, and Mark Mulder.
More from White Cleat Beat
In 1988, the beginning of the Bash Brothers era of A's baseball, Oakland put together a 14-game winning streak from April 23 through May 9. That season, Mark McGwire and Jose Canseco combined for 79 home runs and Dave Stewart was formulating a streak of his own, with his second of four consecutive 20-plus win seasons. They cruised to their first World Series appearance in 14 seasons but lost momentum when Los Angeles Dodger Kirk Gibson hobbled up to the plate.
The 2019 team won 11 games in a row from May 16 through May 27 with essentially the same team that they put on the field today with one notable exception. Brent Treinen had five saves during the run, before becoming ineffective and relegated to the second tier behind Liam Hendriks. Easy to determine that the A's are much better off at closer today than they were last season.
The 2001 A's won 11 in a row from Aug. 2 through Aug. 12 and was a precursor to the record-breaking 20-game winning streak in the following year. The 2003 club followed up with a 10-game winning streak from Aug. 23 to Sept. 2.
The 1992 Oakland A's, behind American League MVP and Cy Young Award winner Dennis Eckersley, won 10 in a row in early September.
None of those teams went on to win the World Series.
Regular season winning streaks are fun to recall, but only a winning streak in the playoffs will be noteworthy and forever etched in team history.