Oakland A's ownership reportedly doubtful on Howard Terminal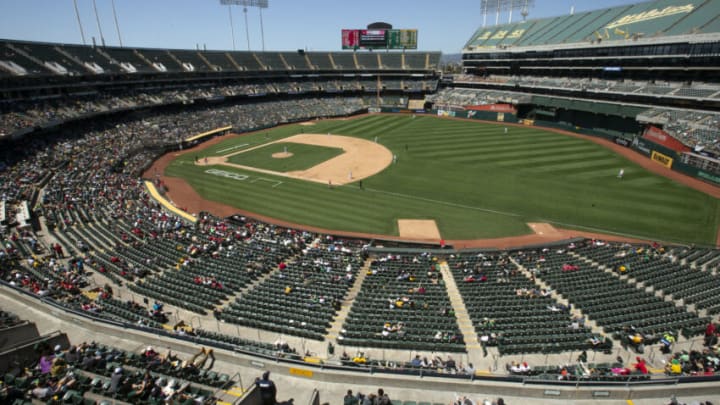 Jul 20, 2021; Oakland, California, USA; A general view of RingCentral Coliseum during the sixth inning of a game between the Los Angeles Angels and Oakland Athletics. Mandatory Credit: D. Ross Cameron-USA TODAY Sports /
The Oakland A's commitment to alienating their fanbase has been nothing less than impressive.
Payroll was slashed with the A's best players sent away just because ownership wanted to improve their profit margins. At the same time, ticket prices doubled, popular programs were discontinued, and the A's kept flirting with Las Vegas. They even refused to pay a popular hot dog vendor.
Here comes more speculation about the Oakland A's and Las Vegas
Naturally, it has not taken long for that speculation to begin once more. According to Tim Kawakami from The Athletic, John Fisher is "growing increasingly doubtful" about finalizing the Howard Terminal deal. Kawakami does also note that there is nothing set with Las Vegas either, but that Fisher "knows he can can do it" provided he borrows approximately $500 million.
As he further noted, it feels as though Major League Baseball is pushing the A's in that direction. They are willing to waive the typical relocation fees and would seemingly prefer to put an established team in Las Vegas as opposed to an expansion franchise. MLB does not seem to care if that would leave Oakland without a major league team.
But Kawakami did provide a possible sliver of hope. He did note that it is possible that Fisher just gets frustrated with the entire situation and decides to sell, something that would immediately make the baseball universe that much better. As Kawakami said, no one really knows what Fisher is going to do – aside from pocket as much money as he can.
These reports are just frustrating from any standpoint. It had seemed as though the A's and Oakland were working toward getting the deal together. After years of delays, the city was doing their part. Meanwhile, although the A's said all the right things from a public relations view, it never felt as though they had that same willingness to get a deal to happen.
Oakland A's ownership just cannot stop themselves. Once again, there is more speculation about Las Vegas as John Fisher is "doubtful" about Howard Terminal.